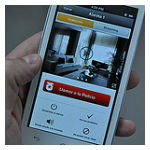 Despite touted benefits, consumer demand for smart home devices and technology actually showed a decline between 2014 and 2015, according to a just-released study from Argus Insights. Lack of trust in smart home devices and automation is constraining market growth, Argus highlights in its new ¨Smart Home Delight¨ report.
Future success depends on the ability of developers and vendors to deliver products and services that are genuinely ¨smart,¨ make consumers' lives easier and yield cost savings, Argus states in its June ¨Connected Home Demand Report.¨
Among connected home devices, Argus found smart light bulbs, security kits and hubs (the most popular type of smart home device) leading in terms of its ¨consumer delight¨ metric. Security cameras were the most disappointing.
Drivers of Demand for Smart Home Devices
Looking at home security kits and hubs, Argus Insights identified SimpliSafe as the market leader in terms of customer satisfaction. Simple installation, an intuitive interface, and perceptions of the product offering great value were the main reasons.
Acquired by Google for $3.2 billion, smart home thermostat and connected home technology developer Nest is recovering from a disappointing debut, Argus Insights noted.
Consumer perceptions of the Nest Cam have improved nearly 20% since the product's launch, which indicates that some of the early issues consumers had are being resolved, the market research provider commented. That said, most consumers still see Nest Cam as not reliable enough to use as a security camera due to weak mobile notifications and streaming, Argus added.
Commenting on its latest research results overall, Argus Insights' CEO John Feland said: "These devices are still designed more for the Internet of Things than the Internet of Humans.
¨Mainstream consumers were burned last holiday season by installation and reliability issues. Though the remaining consumers in the market overall like these products more, the issues that forced out mainstream adopters after Holiday 2014 remain. Our analysis suggests that 2015 may be less than robust for smart home devices."
Other key report takeaways include:
Delight for Smart Home devices is experiencing a slight uptick as companies work to make life easier for consumers;
Products that deliver on the promise of a better life in a way that is easy to install and maintain are driving up delight metrics;
Distrust from consumers about reliability of the products along with a drop in demand will lead to a not so merry holiday season for Smart Home device manufacturers.