Average download speeds have increased by 168% during the past five years, according to a report from HighSpeedInternet.com based on speed test data it has collected over that time period. That increase is tempered by the finding that only 32% of users get download speeds of 100 Mbps or greater. Google Fiber had the fastest internet, according to the report.
The assessments include various delivery technologies. Average download speeds have shown significant year by year and total five year growth. The average in all tests in 2018 was 41.5 Mbps. That increased to 51 Mbps, 81.9 Mbps, 97.5 Mbps and 111.2 Mbps during the next four years. In other words, download speeds have almost tripled in a half decade.
The firm found that fiber and cable providers have seen significant increases in the users getting 100 Mbps connectivity. On the other side of the ledger, the very few satellite providers get 100 Mbps or faster speeds, though SpaceX's Starlink, perhaps the highest profile, has the highest number of users getting 100 Mbps of service.
Overall, the HighSpeedInternet.com fastest internet report found that there was a 203.31% increase in tests that found speeds of 100 Mbps or more.
The site provided the top five providers for the period from January 2022 to January 2023 with their integrated speed score, which combines the providers' average download (90% of the score) and upload speeds (10%). Google Fiber (171.40) was tops, followed by Comcast Xfinity (157.13), Verizon (155.48), Metronet (149.29) and Cox (146.68).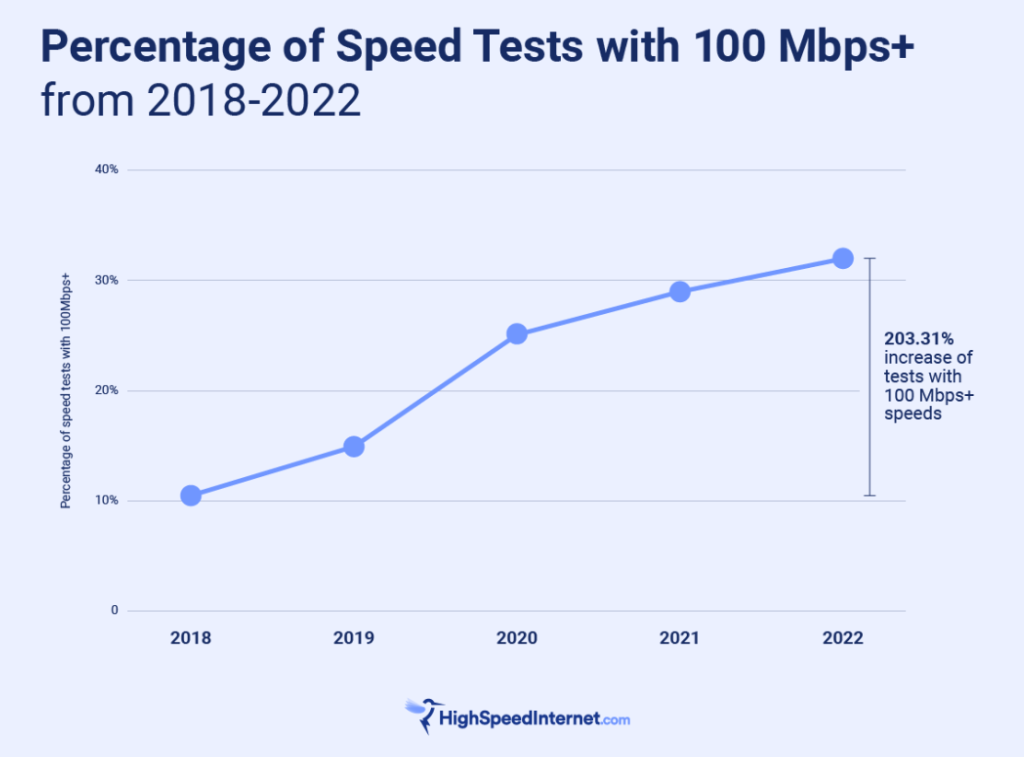 Another entity that collects speed test data is Ookla.
In October, Ookla found that during the third quarter of the year, Charter's spectrum broadband service had a median download speed of 211.66 Mbps and had moved ahead of Cox, which was second and had a download speed of 196.52 Mbps.
Six months earlier – in April — Ookla found that during the first quarter of 2022, T-Mobile had the fastest mobile download speed (117.83 Mbps) and Verizon had the fastest fixed broadband (184.36 Mbps).