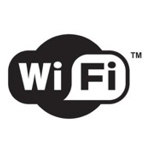 Offloading of cellular network traffic to Wi-Fi networks is on the rise, with Wi-Fi offloading now taking place in nearly 80 percent of all U.S. states in 1Q 2014, a 2-3 percent sequential quarterly increase, according to the latest "Quarterly WiFi Analytics Report" from Wi-Fi network management vendor Wefi.
As Wefi highlights in a press release:
Most states, with the exception of Connecticut and Florida, averaged above 92 percent in Wi-Fi offloading.
Wi-Fi offloading increased by 90 percent from 4 states in the first quarter of 2013 to 41 states in the first quarter of 2014 — with an average of 94 percent Wi-Fi offloading in these 41 states.
In the first quarter of 2014, Wefi found Snapchat speeds blew past Facebook on every metric, including per state and in-state comparisons. For example, in Manhattan, users of Snapchat experienced a nearly 106 percent increase in Mbps whereas Facebook user speeds fell by nearly 81 percent.
Drilling down into the data, Wefi found that streaming video and social media apps, such as Netflix, Vine, Spotify, ESPN and Instagram account for the highest volumes of data use. As Wefi CMO David Fishman elaborated, "Facebook has been optimized for easy sharing of rich media which entails the uploading and downloading of larger content files.
"This requires more bandwidth which may affect users' speeds. In contrast, content shared on Snapchat is much smaller in size and once viewed, is not stored, requiring less bandwidth and resulting in faster user speeds."
Better performance "coupled with devices that automatically sense and log users into Wi-Fi networks when they are present," is leading carriers to offload growing volumes of data on to Wi-Fi networks, a growth trend Wefi sees continuing nationwide.
Cellular Offloading to WiFi
According to Wefi's latest quarterly report:
The top five states with the highest W-iFi offloading rates were Utah (99 percent), New Mexico (98 percent), Arkansas (98 percent), Vermont (98 percent) and Maine (97 percent). Of note, New Mexico and Utah were the only states that kept their position in the top 5 Wi-Fi offloading list from Q4 of 2013.
Across the Eastern United States where cellular services are more pervasive, Wi-Fi offloading was also more robust with carriers offloading 82 percent more data than those represented across the Western United States.
WiFi networks were 27 percent faster in Q1 2014 with an average Wi-Fi offload speed of 5.3 Mbps compared to Q1 2013 with an average speed of 4.2 Mbps. Massachusetts, Maryland, Iowa, Illinois and Connecticut clocked in with the fastest Wi-Fi connections this quarter.
Cellular networks were 62 percent faster in Q1 2014 with an average speed of 4.7 Mbps compared to Q1 2013 which had an average speed of 2.9 Mbps (based on the average of states with the top 5 fastest speeds in Q1 2014 compared to Q1 2013 respectively). New Hampshire, Missouri, Maine, Louisiana and Kansas clocked in as the top five states with the fastest cellular connections this quarter.
The report also found that ESPN, Instagram, Netflix, Spotify and Vine maintained their positions as the top five most downloaded applications.
Commenting on the results, Wefi CEO Zur Feldman stated, "The proliferation of smart mobile devices with built-in broadband capabilities has marked a transformation in how consumers use their devices.
"Today's consumers have an insatiable demand for connected smart mobile devices, generating rising amounts of mobile data consumption via Wi-Fi. To address this growing demand for more data and more bandwidth, network carriers can offload users from their 3G/4G network to Wi-Fi networks to add more capacity in a more affordable and flexible way."