Twenty-eight percent of U.S. Internet households have three or more smart devices, according to Parks Associates.
The firm's new "Smart Home Consumer Insights Dashboard" found that the average household has 7.1 smart devices and that 40% of U.S. Internet households now have household security and 25% have professional monitoring. An increasing number of households feature first time buyers.
Researchers noted a decline in purchases across most smart home device categories at the end of last year. It attributed this to inflation and economic uncertainty. Despite the slowdown, robotic vacuum cleaners, smart cameras, video doorbells and smart thermostats had higher purchase rates than in 2021.
The firm provided fourth quarter smart home device penetration for seven years. The percentages rose steadily through the fourth quarter of 2021. The downturn during last year's fourth quarter brought penetration roughly equal to the fourth quarter of 2020.
"New households are entering the smart home market, with just one or two devices, bringing down the average number of smart home devices owned – but this is a positive result overall," Jennifer Kent, Parks Associates' Vice President of Research, said in a press release. "The security industry is a strong channel for smart home devices and new services, with many opportunities to connect different ecosystems through the security system platform."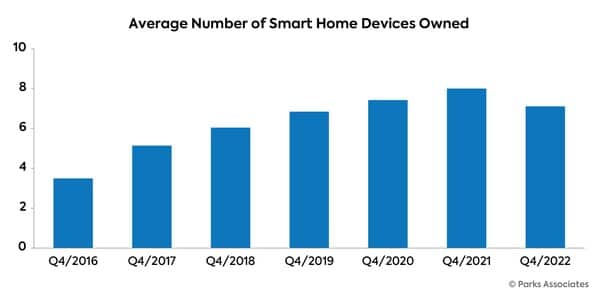 In May 2021, Parks Associates found that price was a key to growth for the smart home device category. At the time, the firm found that 42% of U.S. broadband households did not own or plan to buy a device, but that 17% would if prices dropped.
Last August, Deloitte noted a slight decline in entertainment and smart home devices per U.S. home between 2021 and 2022. The firm's "2022 Connectivity and Mobile Trends" report found that device penetration declined from 25 to 22 between the two years. The commentary in the release suggested that the impact of the COVID-19 pandemic had slightly abated and, thus, demand for in home devices had slightly abated.