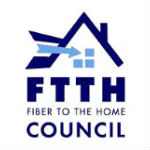 The number of North American households with direct connections to optical fiber networks increased 13% over the past year, indicating that telecom companies of all sizes continue to upgrade to fiber-to-the-home (FTTH) infrastructure, according to Fiber-to-the-Home Council Americas.
According to a research report produced by RVA LLC, North American telecom network providers upgraded 900,000 households to FTTH service across the US, Canada, Mexico and the Caribbean since April 2011. The total number of North American homes with all-fiber connections surpassed 8 million, with FTTH now being offered to 19.3 million homes on the North American continent.
The US accounts for 95% of the total, where major FTTH expansion began in 2004 and where Verizon now offers the technology throughout much of its wireline footprint, noted RVA. FTTH deployments are now picking up across North America, with Canadian FTTH households now representing 3% of the total. Mexico and the Caribbean account for the remaining 2%.
"The pure numbers of FTTH providers and their diversity is something that is uniquely North American. No other region of the world is seeing this," commented RVA President Michael Render.
The number of North American FTTH providers is nearing 1,000 as growing numbers of small- and medium-sized incumbent telcos, mostly located in rural and small town areas, replace copper with FTTH–though Verizon remains the largest FTTH provider by a long shot, RVA found.
Broadband companies, municipalities and public electric utilities are also building out FTTH connectivity. Most of the nearly 1,000 companies moving to FTTH serve fewer than 10,000 subscribers.
Fifty-eight percent of FTTH providers reported seeing increased local economic activity associated with their roll-outs. "The notion that the upgrade to FTTH can be a catalyst for economic development is precisely what is driving this enormous interest in high-speed fiber we are seeing at the community level across North America," said Heather Burnett Gold, FTTH Council Americas president. "Civic leaders in communities of all sizes have a sense that more bandwidth means more opportunities for economic progress."
"These latest numbers underscore that phenomenon in two ways – they show that smaller telecoms are continuing to upgrade to FTTH and that many are indeed seeing a positive economic impact in their communities after they deploy," she added.
RVA's survey results also revealed that government-supported FTTH stimulus projects are now, on average, 38% complete, with many projects expecting to begin connecting customers this year.