Fiber broadband could add over $78 million in annual home-based revenue for a community with a population of 100,000, according to a new report from RVA Market Research & Consulting for the Fiber Broadband Association (FBA).
The researchers see the ability to generate more revenue from outside the community as a key benefit of fiber broadband. Researchers found that total income from outside the community is 73% higher for households with fiber broadband in comparison with households that have some other type of connectivity.
The finding is based on a comparison of an area in which 90% of the population uses fiber broadband with an area where 36,000 people have fiber broadband and 54,000 have some other type of connectivity. Both hypothetical examples assume 10% of the people in the community do not use broadband.
Small Towns Increase in Popularity
Small towns have increased in popularity, and small towns with fiber broadband are the most popular, the RVA/FBA report notes.
"A century-long movement out of rural areas to urban areas began to reverse about 10 years ago," the report notes.
And while only 15% of people live in remote small towns today, 23.6% say that is where they would most like to live.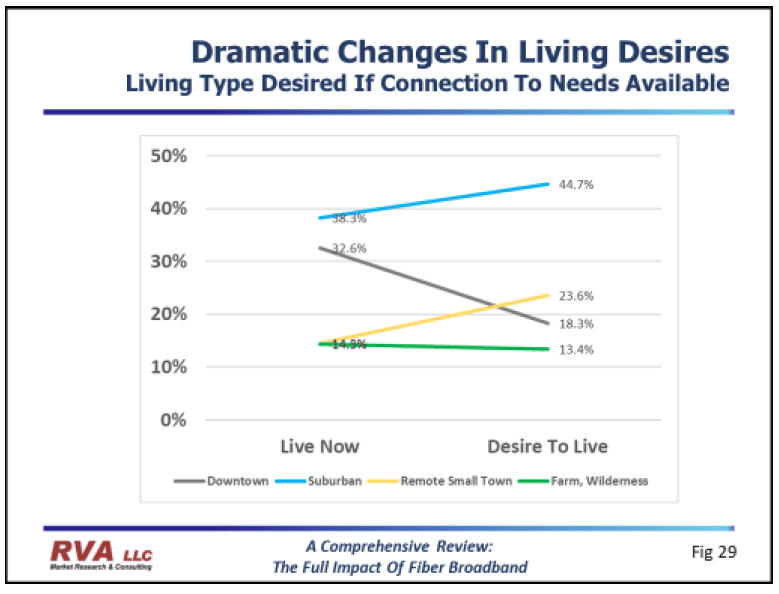 But while 31% of rural areas have fiber broadband, 47% of people who moved to rural areas in the past year chose areas that have fiber.
Where people would like to live is reflected, in large part, on the community attributes they value the most. For example, 81% of those who would prefer to live in rural areas value "safe streets/low crime," in comparison with 72% of those who would prefer to live in downtown areas. Meanwhile, 50% of those who would prefer to live downtown value "number and diversity of employment opportunities," in comparison with 31% of those who would prefer to live in rural communities.
Ironically, however, the percentage of people who value "very high-speed/reliable internet access" is almost identical for everyone—including 67% of people who would prefer to live in suburban and rural communities and 66% of people who would prefer to live downtown or in "truly rural" areas.
Additional broadband research can be found in the RVA/FBA report, titled "The Status of U.S. Broadband and the Impact of Fiber Broadband" at this link.
Telecompetitor reported previously on related research from Purdue University Center for Regional Development that studied the vulnerability of small towns lacking good broadband access during the COVID-19 pandemic when more people began working from home.