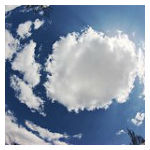 Year-on-year (YoY) growth of 17% is nothing to turn your nose up at, and that's the rate enterprise cloud-based services will grow in 2013, according to a new report from Analysys Mason. Looking out over the longer term, the market research firm foresees enterprise cloud services revenue rising from $18.3 billion in 2012 to $31.9 billion in 2017, with growth slowing over the period as the market increases in size.
Uptake of enterprise cloud services – software-as-a-service (SaaS) and infrastructure-as-a-service (IaaS) – will be slower in the much larger developed as compared to emerging markets, according to Analysys Mason's, "Enterprise cloud services: worldwide forecast 2012-2017." Enterprise cloud services revenue in developed countries will increase to $28.7 billion in 2017 from $17 billion in 2012, a constant annual growth rate (CAGR) of 11%, while growth in emerging markets will increase at a 20.9% CAGR, rising to $3.2 billion from $1.2 billion over the period, according to the report.
Communications service providers (CSPs), i.e. telecompetitors, will come to play a larger role and increase their share of the enterprise cloud service market, according to Analysys Mason, "as they bundle more offerings with core connectivity.
"CSPs will become more adept at offering a high-quality cloud solution with network- and application-level SLAs (service-level agreements), which will drive more enterprises to adopt cloud services," the report authors assert.
Analysys Mason foresees CSPs accounting for 18% of total enterprise cloud services revenue worldwide come 2017, up from 12% in 2012, below its previous forecast of 14%.
SaaS accounted for 66% of the increase in enterprise cloud services revenue in 2012 with IaaS revenue growth accounting for 33%. Analysys Mason sees that revenue split shifting over the next five years, with IaaS's share increasing to 43% by 2017.
Analysys Mason also forecasts that small- and medium-sized enterprises (SMEs) employing fewer than 250 people will account for a growing share of the market. SMEs accounted for 43% of total public cloud services revenue globally in 2012. The market research firm foresees that growing to 49% by 2017 as SMEs' awareness of cloud services increases; usability improves; and CSPs continue to add solutions designed specifically for SMEs.
Image courtesy of flickr user JanneM.