Next-generation 5G wireless networks need edge computing more than edge computing needs 5G, argues a new edge computing report from Chetan Sharma Consulting authored by the firm's CEO of the same name. Sharma sees edge computing as a means of enhancing network efficiency and generating revenue even for today's mobile networks by, for example, enabling advertising to be more effective. He estimates the economic impact of edge computing at $4.1 trillion by 2030 – a substantial portion of which will come from existing use cases.
Sharma's clients include several major network operators, and the report offers an insider view on some of these issues. For example, without mentioning names, he notes that one operator was able to upgrade streaming subscribers to high-definition service by using edge computing to manage congestion and handle more concurrent streams. As a result, average revenue per user increased by 30%.
Edge Computing Economic Impact
Network operators have been talking a lot about edge computing in connection with their 5G plans – the thinking being that the low-latency service that 5G can support will only be useful if cloud applications are moved closer to the end user. We commonly hear that the combination of 5G and edge computing will enable applications such as connected cars and virtual and augmented reality.
But according to Sharma, existing applications and current-generation networks can benefit from edge computing. One of the most compelling real-world examples he offers relates to an unnamed mobile operator. As Sharma explained, "advertisers wanted to stream video ads but congestion at peak times made the experience a poor one for the consumer which resulted in low customer engagement yielding low advertising revenue which is based on some specific performance metrics."
The solution was to overlay an edge internet architecture and place the advertisers' videos closer to the consumer. As a result:
Latency was reduced 10-fold
Video resolution went up by 27%
Data throughput increased by 62%
Startup time was reduced by 33%
Video ad completion increased by 42%
Revenue increased by 30%
"This is not a futuristic use case but something that can be applied in the field today with immediate results," the report notes.
Sharma argues that edge computing not only can increase revenue; it also can reduce costs. "Edge internet provides a more cost-effective way of managing network traffic wherein some of the [traffic] can be processed and offloaded at the RAN without ever touching the normal route through the core," he explains. "With the help of additional software techniques and strategies, this load can be managed more cost-effectively."
He estimates that operators can see a 62% decrease in the cost of delivering bits by using an edge internet architecture.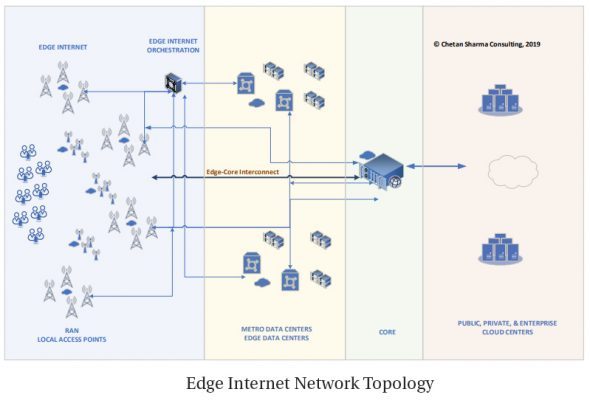 Of the $4.1 trillion economic impact of edge computing that Sharma forecasts for 2030, about a third would come from existing applications – and in the short term, existing applications comprise about half of the economic impact.
Sharma argues that network operators largely missed out on the cloud opportunity over the last decade but that by virtue of their network assets, they can play an important role in the edge internet economy.