Drone delivery interest isn't exactly high among consumers for now, despite the attraction of receiving purchases faster and at lower cost, according to a drone delivery survey from Report Linker. Less than half of Americans surveyed (47%) said they were interested in same-day delivery by drone. That rose to 53 percent among men, and 72 percent among Millennials.
Making Internet news headlines, Amazon made its first package delivery via automated drone, or an unmanned aerial vehicle (UAV),  about two weeks ago. An Amazon Prime Air drone delivered a Fire TV streaming media device and a bag of popcorn to a customer in Cambridge, England.
Amazon isn't the only multinational corporation or shipping company looking to use drones to deliver goods faster and more cheaply. Google has delivered Chipotle burritos on Virginia Tech's campus; Domino's has used drones to deliver pizza in New Zealand.
The initial pilot test of the Amazon Prime Air service is limited to daytime deliveries and has just two customers at present, but Amazon anticipates that will grow to hundreds. The first delivery took just 13 minutes from the customer clicking "order" to the order arriving at the customer's door, according to Amazon.
Drone Delivery Interest
Shoppers place a high value on prompt, reliable delivery, when it's affordable. Use of drones to deliver packages present threats to privacy and security, however; just two reasons why Americans are reluctant to embrace drone delivery, according to Report Linker.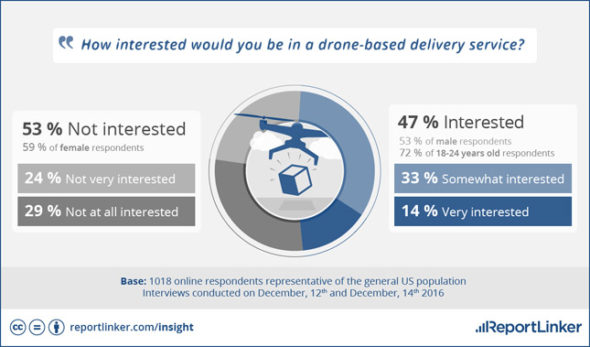 The need for regulatory changes is another concern. The U.S. Federal Aviation Administration issued its Part 107 rules and guidance for drone operations but it has otherwise been moving forward at a cautious pace, one slower than drone delivery proponents might like. That's why Amazon conducted its first drone delivery test in the U.K., Report Linker says.
That said, delivering goods is just one of a wide range of purposes for which businesses and public sector organizations are looking to use drones. Realtors and videographers could make use of them, and they could be used to fight fires, locate missing persons or deliver medicines to hospital, the market research provider points out.
Among consumer goods, shipping electronics (14%) ranked second, behind clothes and apparel (27%) as the type of product most survey respondents said they would be most interested in having shipped by drone. That rose to 21 percent among those who said they would be interested in drone delivery in the first place.
Food delivery tied with books to rank third at 11 percent. Google is reportedly discussing the use of drone delivery with Starbucks, for instance.
Americans aren't all that interested in having drones deliver medicines either. Despite their use by medical and humanitarian agencies, just 10 percent said they'd be interested in having medicines and medical products delivered by drone.
Americans' attitudes regarding drone delivery may well change, Report Linker says. 7-11 recently delivered orders to a dozen selected customers in Reno, Nevada via drone. Slurpees were among the items purchased, but most were over-the-counter medicines.