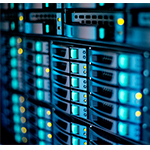 The stage is set for further data center consolidation, according to a new research note from MoffettNathanson, a financial research firm with a data center specialty. For evidence, the researchers note that private sources of capital recently have raised or allocated capital to focus on communications.
The researchers also note several recent rumors involving data center mergers or acquisitions. According to press reports, potential buyers have looked at Interxion, EdgeConneX, and CyrusOne (the data center unit spun off from Cincinnati Bell several years ago), the researchers note.
Of seven major U.S. data center operators, two – Equinix and Digital Realty – are generally too big to be acquisition targets for private investors, according to the report. But five could be M&A targets, including:
CyrusOne
Interxion
CoreSite
QTS
Switch
Data Center Consolidation Considerations
The MoffettNathanson research discusses several key considerations involving data center consolidation, including key drivers, considerations involving taking a public company private and considerations involving joint ventures or asset sales.
The researchers divide M&A drivers into two categories – strategic and tactical. A key strategic driver is to expand footprint, which can help drive sales to customers that need data centers in multiple markets. This calls for acquiring companies that operate in markets not already covered. The rationale behind tactical M&A, on the other hand, may involve reducing costs by acquiring companies that operate in the same region and consolidating key functionality.
Considerations when a private investment firm acquires a data center operator relate, in part, to a company's planning horizon. Private investors are more likely to take a longer view in comparison with public investors, who want to see specific results every quarter – and this may be attractive to data center management. Customers, however, may view a private firm in a less positive light in comparison with a publicly-held firm.
Not all data center consolidation involves outright M&A. MoffettNathanson researchers also expect to see increased asset sales and joint ventures among data center operators. "JVs and one-off asset sales can make the deals a more digestible size and, depending on how they are structured, can offer a reduced risk profil (for example, if they consist of facilities that are already fully leased)," the researchers write.
The downside of joint ventures is that decision-making becomes more complicated, the report notes.
Edge Data Centers
The research note didn't include a discussion of technology trends. But one of the big ones in this area is the rise of edge data centers aimed at supporting low-latency 5G networks, IoT applications and real-time applications such as virtual and augmented reality.
There is a new category of data center operators arising to address these needs. The infrastructure they are building is more disperse and smaller and closer to end users in comparison with traditional data centers. Companies in this category include EdgeConnex, Dart Points, Packet, Vapor and others.
It seems like these companies will continue to need funding and that they could be a good investment for private investment firms or even, potentially, for traditional data center operators that may want to branch into a new business area.