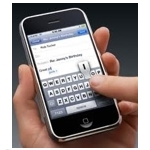 Data caps and issues with connectivity are limiting the potential boost to worker productivity afforded by the Bring Your Own Device (BYOD) phenomenon, according to the latest Mobile Workforce Report from iPass, a provider of mobility services for enterprises and telecom service providers.
More than half of the mobile workers responding to iPass's survey said they have problems connecting to Wi-Fi networks in key locations, such as airports, airplanes and hotels. In addition, they often experience connectivity choices described as limited to frustrating, such as one-time Wi-Fi day passes or high-priced mobile data services, according to an iPass press release.
Forty-two percent of respondents said excessive charges and restrictions in monthly data plans force them to limit their data usage, and that has a negative impact on their productivity.
One-quarter expense back their mobile data costs, and 54% would pay for a Wi-Fi roaming plan, according to iPass.
Despite the hurdles, Wi-Fi continues to be the preferred choice for almost two-thirds of mobile worker respondents.
"We are seeing that mobile workers are becoming more cautious about exceeding data caps and deliberately limiting their data usage, which is hindering productivity," iPass CEO Evan Kaplan was quoted in a press release. "Clearly, enterprises that provision mobile workers with devices, or leverage a BYOD strategy, need to ensure that workers can connect when and where they want, and work on-the-go as cost-effectively and productively as possible."
Corporate BYOD continues to grow, and the diversity of devices mobile workers are using is increasing, iPass also found: 62% or mobile worker respondents said they already use their personal smartphones for work purposes, while 72% believe their personal devices should be usable for work purposes.
The iPhone has supplanted laptops as the preferred mobile device of choice, according to iPass. Only 12% of mobile workers chose laptops and notebooks as their top mobile device – Apple's Macbook included – in the latest survey.
Growing acceptance and adoption of BYOD in the corporate world may explain the shift in device preferences, according to iPass. "As more organizations continue to implement BYOD, workers are carrying fewer devices, likely because fewer people have an IT-provisioned device in addition to a personal device. The report states that mobile workers are carrying 2.95 devices on average, compared with 3.5 in 2012."
Samsung and Microsoft are gaining traction among mobile workers, the report authors continue: 28% stated they intend to buy a Samsung Galaxy tablet within the next six months; 17% said they will buy a Windows 8 tablet within the same time period.