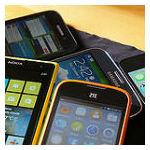 Corporations are turning to a growing variety of secure work apps in order to enhance communications security. Increasing uptake of secure work apps is enabling users to take care of work and personal tasks and activities using one device while protecting the user information contained in emails, contacts, voicemails and text messages, according to Good Technology's 12th quarterly Mobility Index Report.
Two-thirds of organizations (67 percent) are making use of two or more mobile apps beyond email, according to the Good Technology 2Q 2015 Mobility Index Report. While ¨mobilizing¨ content and apps they're also enhancing mobile information security and communications' resiliency.
Custom Enterprise Apps
On average, organizations are using more than three apps (nearly 3.5) in addition to email. Secure browser apps lead all app categories for the third consecutive quarter. Custom apps, secure IM, document editing and document access followed in that order.
Good Technology also found that corporate employees are requesting access to corporate intranets and information that lies behind firewalls, which raises the threat risk. That drove use of secure browsing higher. Secure browsers accounted for 21 percent of app deployments in 2Q.
Data across industry sectors revealed that energy and utility companies were the biggest users of custom apps, having increased usage from a negligible number to 49 percent in just one quarter. Furthermore, one in three mobile apps in use among insurance companies (32 percent) were custom-built.
With speed to execution a key factor driving profits, financial services providers continued to invest heavily in secure IM. Secure document workflow and editing apps accounted for nearly 4 in 10 (37 percent) and 15 percent, respectively, of deployments in the business and professional services sector.
Device Usage
Among devices, Good Technology noted a dramatic shift as corporations began to replace laptops with tablets. iOS's share of tablet usage fell from 81 percent to 64 percent, while use of Android tablets rose to 25 percent. Windows tablet app usage increased as well, rising from 4 percent to 11 percent, up substantially from 1 percent two quarters ago.
iOS retained the top spot for smartphone activations despite its overall market share dropping for a second consecutive quarter, down from 70 to 62 percent. Android's smartphone market share rose to 32 percent, while Windows' came in at 3 percent.
Use of iOS devices continued to outpace Android in regulated industries, including in the public sector (79 percent), education (76 percent) and healthcare (70 percent). On the other hand, Android moved ahead of iOS in high-tech (53 percent) and also experienced significant gains in the energy (48 percent) and manufacturing (42 percent) sectors.
Image courtesy of flickr user Jon Fingas.