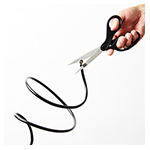 Net gains in broadband-only homes experienced a record jump during the second quarter causing the year-to-date total in 2020 for cord cutting households to more than double, according to Kagan, a group within S&P Global Market Intelligence.
Broadband-only homes are defined as homes that subscribe to wireline broadband service, but do not subscribe to a traditional multichannel video subscription. Homes that subscribe to wireless delivered broadband are not included in this analysis.
The market research firm found that 37% of wired broadband homes have cut that traditional video cord, which is up from 12.5% in the first quarter of 2014. Penetration of broadband-only in all occupied households increased from 8.8% to 29.5% during the same period.
The period that ended on June 30 was the second straight with more than 8% growth. Net gains during the first half of the year was about 80% higher than the previous record, which was set last year. The firm said that broadband only homes are on track to meet its projections.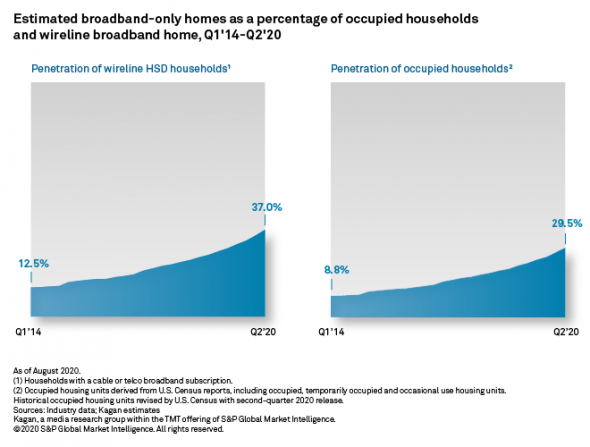 The firm pointed to the COVID-19 pandemic as a driver of the increased cord cutting. "Given the economic headwinds of the first half, U.S. households likely were looking to cut back on discretionary spending, including entertainment," said Tony Lenoir in a blog post. "At a monthly $100-plus average, traditional multichannel services stand out in budgeting decisions, particularly in the era of streaming video proliferation."
More Video Choice for Cord Cutting Households
Another driver of the increase was more choice, Kagan said. Comcast launched the Peacock streaming service on July 15 and reported more than 10 million customers by the end of the month. Though numbers have not been release, Kagan noted that AT&T launched HBO Max during the second quarter, a move that it said increased choice for those considering cutting the traditional pay-TV cord.
The COVID-19 pandemic in general seems to be accelerating existing trends. With the cord cutting household trend, the move was well under way. In January 2019, Kagan predicted that homes with broadband but without a traditional linear pay-TV subscription will grow from 23.3 million in 2018 to 40.8 million in 2023.
The compound annual growth rate of broadband-only homes during the period was predicted to be 11.9%. By the end of 2023, broadband-only homes were set to account for 41.7% of wireline broadband homes.
Broadband-only homes appear to be redistributing their approach to entertainment viewing, not giving it up. In May 2019, OpenVault used its SaaS platform to assess usage, reporting usage trends in its OVBI report. It found that internet-only homes use a monthly average of 395.7 gigabytes. Those with pay-TV and broadband use 209.5 GB, nearly half of the bandwidth usage of cord-cutter homes.