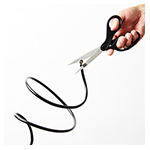 Only 40% of the 1.4 million traditional linear pay-TV subscriptions lost in the first quarter of 2019 were recaptured by equivalent over-the-top (OTT) offerings, according to new video cord cutting economics research from analysts at financial research firm MoffettNathanson.
The companies that provide those equivalent OTT offerings have come to be known as virtual multi video programming distributors (vMVPDs), and their offerings include Hulu Live, YouTube TV, DirecTV Now, Sling TV and others.
MoffettNathanson researchers see these results portending a trend that could drive content owners to move toward direct-to-consumer offerings. They point to Disney's planned Disney+ offering as an example of this kind of service, commenting that "We've described Disney's planned suite of direct-to-consumer services as a 'lifeboat,' ready and waiting if the status quo deteriorated to the point that it came time to abandon ship. . . [I]t may still be too early to abandon ship . . .  but it's not too early to put on the lifejackets."
Video Cord Cutting Economics Research
Some industry observers had expected more people who dropped traditional pay-TV to switch to vMVPD offerings but according to MoffettNathanson, that's not happening to the extent expected because vMVPD offerings are becoming nearly as "bloated" as traditional pay-TV offerings. People often drop traditional pay-TV because they don't like paying for channels they don't watch, but increasingly, content owners are also requiring vMVPD providers to take channels they don't want, either.
As OTT skinny bundles become less skinny and more expensive, their appeal to video cord cutters fades. Instead some video cord cutters are relying on traditional over-the-air television and subscription video on demand (SVOD) offerings. The latter include services such as Amazon Prime and Netflix.
Moving forward, MoffettNathanson researchers expect to see a "bifurcation" between sports/news, which will continue to be delivered over linear offerings (but at greater cost to consumers), and general entertainment – and they see Disney as the only content provider poised to succeed in both markets.
For other providers of entertainment content, the worst-case scenario is that erosion of traditional linear pay-TV providers "will continue apace . . .but without growth among the vMVPDs, [the] conversion rate will fall further, and more and more households will exist solely outside the existing pay-TV model," researchers said.
That scenario could force content providers into direct-to-consumer (DTC) offerings akin to Disney's planned Disney+ service. But according to the researchers, "No one can match Disney's combination of universes, characters and back catalog . . . [O]ther media companies don't have the same DTC opening that Disney has."