Consumers and businesses have more than 1 billion connected television devices across the globe, according to an estimate of the connected TV device base from Strategy Analytics.
Smart TVs have become widely popular with more than 60 percent of televisions now of the smart variety, with Samsung and Sony leading the way, researchers said. Vizio and Amazon are also taking significant market share, with Roku also making an impact.
Connected TV Device Base
Global shipments of Connected TV Devices grew 11% during the second quarter of the year, a total of 56.1 million units, according to the report.
"The popularity of connected TV devices, in particular Smart TVs and dedicated media streaming devices such as Roku, Amazon Fire TV and Chromecast, has grown dramatically over the last few years and has led to a fundamental shift in director, in a prepared statement. "Companies such as Roku have managed to build hugely successful businesses selling dedicated streaming devices on the back of this trend towards the online consumption of video in the living room. In fact, we expect more than 55 million digital media streamers to ship globally this year although this will be overshadowed [by] the 150 million plus Smart TV market."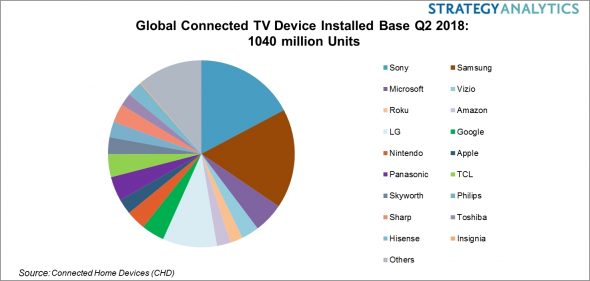 David Mercer, Strategy Analytics vice president added: "Sony has long been the global leader in Connected TV devices in terms of devices installed in homes, thanks not only to its strength in Smart TV and Blu-ray but also as a result of its leading position in the global game console market. However, as Smart TVs take an ever-growing share of the overall market, Samsung will replace Sony at the top of the device footprint rankings later this year thanks to its dominant position in the world's Smart TV market."
Image courtesy of flickr user Vadim Smakhtin.