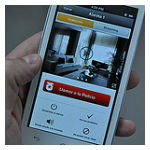 Consumer demand for smart, connected home products fell sharply in the first half of 2015 following strong growth in 2014, according to the latest market research from Argus Insights.
Smart home automation spans a wide and still growing range of devices and equipment that includes connected thermostats, lighting, locks, sensors and cameras. Market data collected and analyzed by Argus Insights for 1H 2015 suggests growth is stagnating, having dropped 15 percent below that of a year ago, according to Argus' Home Automation Demand Report.
Consumer demand for connected home devices dropped across the board, Argus adds. Consumers expressed the greatest interest in connected home security cameras, though this device category also suffered a significant drop in demand during 2015's first six months.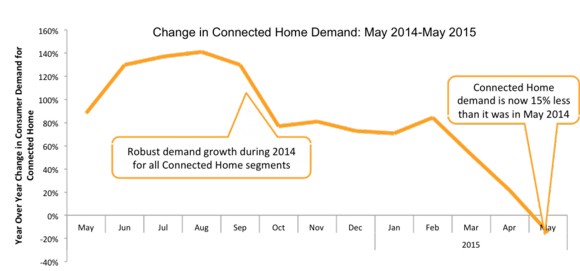 "Based on our review of consumer interest, the state of home automation in 2015 is not looking good for anyone who sells or makes these devices," commented Argus Insights founder and CEO John Feland. "Even though Google and Samsung made big purchases in this space by buying Nest thermostats, Dropcam and the suite of SmartThings products demand is stagnating.
"It is obvious that the early adopters have bought what they want and other consumers are expressing frustration that these products are complicated and difficult to set up and use."
Additional highlights of the report include:
Year over year slowdown in growth is clear indication that the home automation market is stalling and may be contracting;
Consumers are unsure what products they want or need while first adopters have already made their purchases;
The Google investments in Nest and Dropcam and Samsung acquisitions in home automation are not growing at the rate expected from such acquisitions;
Overall Connected Home device market is shrinking as product segments lack innovation.
Challenges for Connected Home Growth
Argus Insights found evidence of waning interest in connected home products in social conversations regarding the Internet of Things (IoT) as well. Connected wearable devices were most commonly mentioned among these online social conversations – numbering 10 times that for the connected home.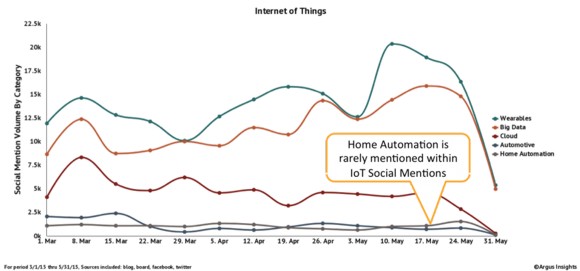 Reviewing more than 12,000 consumer reviews of connected security cameras, Argus Insights found mention of significant negative issues was common. These included persistent reliability problems and connectivity problems.
In previous research, Argus Insights highlighted the frustration expressed by buyers of connected security cameras. Finding it frustrating and time-consuming to install and connect them to their home Wi-Fi networks led buyers to return more connected home security cameras to stores than was expected.
Consumers are holding back on making connected home device purchases as a result of issues with installation and performance, Argus Insights finds. Demand for even the most popular connected home security cameras – those from Dropcam, Dlink, Netgear, Foscam and Tenvis – has dropped dramatically since end-2014.
A confusion of proprietary standards is also dampening consumer demand. "Consumers are not seeing the value yet from these home automation devices," according to Feland. "There is a lot of confusion about standards with Google introducing Brillo and Apple's new HomeKit. "Add in WiFi, Bluetooth, Zigbee and Z-Wave and there is a lot for any consumer to grapple with during installation.
"Until things become easier and consumers don't have to cobble together a total solution, I believe we will continue to see this stagnation continuing for the rest or 2015 unless a new offering addresses these issues and revitalizes the market."