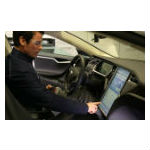 Emerging as a key aspect of the fast-developing Internet of Things (IoT), equipping connected cars with mobile broadband capabilities presents new challenges for network operators, according to a new research report produced by Machina and commissioned by Teoco, a provider of planning, assurance, analytics and optimization solutions to communications providers.
"Rush hour will have grave implications for mobile networks, with certain cells set to experience a 97 percent increase in data traffic over the next ten years. Connected cars will be the key driver of this sharp increase in network usage," Teoco highlights in a news release.
Connected Car M2M Traffic
Mobile network operators are gearing up in anticipation of big increases in machine-to-machine (M2M) data traffic. In the whitepaper, entitled "M2M growth necessitates a new approach to network planning and optimization," Machina says it expects mobile network M2M connections to rise from 250 million in 2014 to more than 2.3 billion worldwide by 2024.
M2M applications and services will make up just 4 percent of overall network traffic over the ten-year period, however, according to Machina. While they may not be heavy in terms of data demand, M2M connections "do have very different demands to tablets and smartphones, which operators must make special plans for," Teoco adds.
"Connected cars, as with other M2M devices, don't behave like smartphones," Machina Research founder and CEO Matt Hatton was quoted as saying. "They represent a very diverse set of challenges to operators through highly varying network traffic patterns at different times of the day.
"In terms of overall data volumes, connected cars don't present much of a problem. But network resource management is not based on total traffic volume, it's based on particular cell sites during peak times of network use," Hatton continued. "If connected cars regularly cause network traffic spikes in a particular location that can't be met, there are implications for operators in meeting SLAs and delivering a positive quality of experience."
The report outlines a number of areas that operators must prioritize to cope with the uptake in M2M connections. These include:
Dynamic network management and RAN optimization: this applies to both to RAN and backhaul planning and necessitates a multi-faceted approach to network management that can cope with varying demands from different devices for network capacity and QoS;
Support for greater diversity in access networks: operators will need to cope with, and manage the inter-relationship between all access networks (including Wi-Fi, LPWA networks) at their disposal. This includes the management of both licensed and unlicensed spectrum;
More sophisticated planning tools: based on existing trajectories, M2M is likely to make up two thirds of all connections within the next ten years. Operators will need planning tools that can cope with this diversity;
An increased focus on device management: the number and diversity of devices connecting to a network will increase exponentially. Each of these devices has the potential to introduce interference into the network and degrade quality of service for all other users. A robust certification process and service assurance capabilities are therefore needed;
A more considered approach to spectrum re-farming: M2M devices are more sensitive to spectrum re-farming. They will have lifespans measured in decades and be installed in hard to reach places making them difficult to swap out. This will have a big impact on how operators choose to re-farm their spectrum.