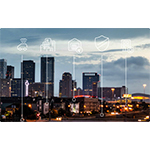 A new study from Nokia and Machina Research released Jan. 30 explores real-life experiences in 22 smart cities around the world.  Offering insights regarding three different smart city strategies, the research partners aim to help identify and establish standard industry best practices.
More than half of the world's population lives in cities or urban areas, a figure that's expected to rise to 70 percent by 2050. Urban life is a two-edged sword when it comes to economic, social and environmental conditions and impacts, however, the researchers state.
People and society's most basic needs – water, food, energy, shelter – can be met more efficiently in high population density urban areas, but doing so in a smart, safe, healthy and sustainable manner poses extremely difficult and complex challenges.
In order to address and resolve these issues, city/municipal, business and civic leaders and agencies have been fashioning Smart City development plans and establishing goals in which gigabit/high-speed broadband access, wireless sensor networks and connected devices play core, pivotal roles – mobile and IoT devices in particular.
Three Smart City Strategies
Commissioned by Nokia, Machina Research identifies three generalized development paths that cities around the world are taking in order to achieve safe, sustainable Smart City goals. As explained in Machina Research's Smart City Playbook, each has advantages and disadvantages.
The Anchor Route: Cities deploy a single, key application for which there is a clear and pressing need, then add others as they become necessary.
The Platform Route: Cities focus on building the technology infrastructure to deliver a wide range of potential smart city applications and services.
The Beta Route: Cities prioritize hands-on experience and launch multiple pilots to see how they perform without immediate concern for long-term deployment.
The advantages of pursuing an Anchor Route smart city strategy include rapid deployment driven by pressing use cases and realizing concrete, associated gains with clear ROIs. Pursuing an Anchor Route strategy may result in a lack of synergy among smart city applications and make integration of new resources difficult, however, according to the report.
Machina lays out the advantages and disadvantages of the Platform and Beta Smart City strategies as follows:
The Platform Route
Advantages:
Synergies between applications are possible;
Smooth path to integration;
Active third-party engagement via APIs and open data; and
Designed-in capabilities and performance.
Disadvantages:
Risk of lock-in;
Upfront investment without initial ROI.
The Beta Route
Advantages:
Citizen engagement;
Access to funding for trials and research;
Easy involvement of start-up and small companies;
Opportunity to use many tools, including consumer-grade Internet applications.
Disadvantages:
Hard to go beyond pilot and achieve operational deployment;
Diffusion of focus.
The Smart City Playbook's authors proceed to identify leading practices in use today that can be adopted by cities everywhere:
Establish clear rules, policies and governance structures for how data will be used:
Cities must be transparent about how people's data is collected and used, with clear rules and business models that protect privacy while encouraging data sharing and third-party contributions and that address the monetization of data resources.
Coordinate smart city initiatives with forethought and leadership so as to break down departmental silos and take advantage of synergies between and integration between applications and datasets.
To that end, smart initiatives must be run by cross-departmental teams or coordinated by a single, centralized agency.
Public transparency is a key facet of Smart City planning and development, and one that Machina's report authors place particular emphasis on.
"City authorities need to be transparent in what they are doing, at the same time [that they are] defining rules, practices and business models which encourage data sharing, third party contribution, and appropriate monetization," they state.