Community-owned broadband networks generally offer lower pricing in comparison with commercial networks, according to a new report. Researchers for Responsive Communities at the Berkman Klein Center for Internet & Society Research at Harvard University compared community broadband prices in 27 markets and found that the community broadband prices were lower than for their least expensive competitor in 23 of those markets.
Comparisons were based on service providing speeds of 25 Mbps downstream and 3 Mbps upstream and on four-year average pricing. That approach was used because commercial operators often offer low introductory prices that increase after the first year, while community networks generally offer prices that are "clear and unchanging," researchers said.
The 25/3 Mbps speed was based on the FCC's current definition of broadband. Data was collected in late 2015 and 2016.
Community Broadband Prices
In the 23 markets where community broadband prices were lower than those of commercial operators, the community broadband prices were as much as 50% lower than those of the competitors. In the four markets where community broadband prices were higher than those of commercial operators, the commercial operators' prices were as much as 30.5% lower.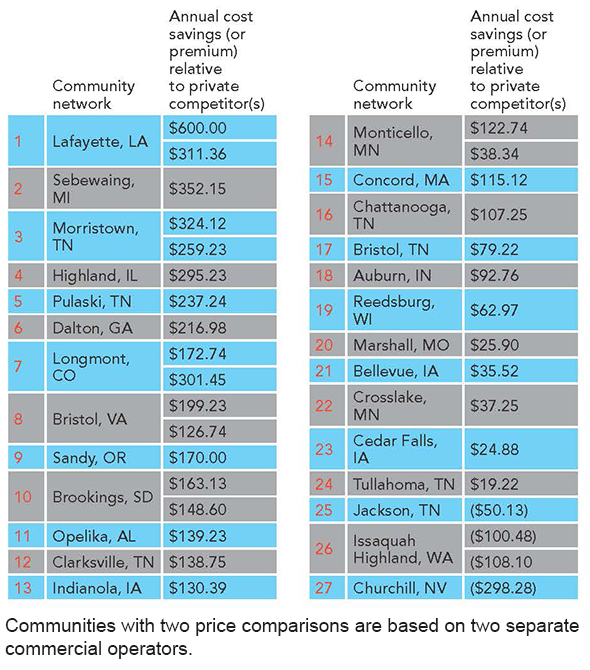 Researchers actually studied 40 community networks for the report, titled "Community-Owned Fiber Networks: Value Leaders in America," but were unable to make price comparisons in 13 of those markets. In some cases, this was because there was no competitor offering comparable service. In other cases, it was because the commercial operator's terms of service prohibited data collection.
In selecting the 40 communities for the report, researchers started with a list of 400 community-owned networks in the U.S. created by the Institute for Local Self-Reliance, then focused in on fiber-to-the-home (FTTH) networks. Researchers noted that some of these networks serve multiple communities, but where that was the case, research focused on the community in which the network originated.
"Our study, though limited in scope, contains a clear finding: community-owned FTTH networks tend to provide lower prices for their entry-level broadband service than do private telecommunications companies, and are clearer about and more consistent in what they charge," the report authors wrote. "They may help close the 'digital divide' by providing broadband at prices more Americans can afford."
The Responsive Communities report comes at a time when several states have enacted legislation to prevent or limit community-owned networks and other states are considering such legislation.