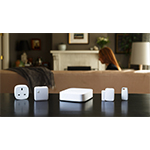 Smart home products and services offer broadband providers the possibility of adding a ¨5th Play¨ offering to their voice, Internet, data and video service bundles, according to new market research from Strategy Analytics. Broadband providers have the potential to earn 47% of what will be a $130 billion smart home market by 2020, researchers said in a report titled ¨Smart Home Market Opportunities for Service Providers.¨
Included in the Strategy Analytics smart home market forecast are smart home ¨safety and security¨ applications, which could yield more than $26 billion annually on a global basis. In addition, consumers will spend more than $14 billion a year on so-called ¨self-monitoring¨ smart home applications, Strategy Analytics highlights in a press release.
The Smart Home Market
The U.S. market stands out as the largest national market when it comes to growth of the nascent global market for smart home products and services. Strategy Analytics estimates the U.S. smart home market opportunity will grow to reach $21 billion by 2020.
Eight in ten Americans (81%) either own or have interest in smart home device purchases this year, according to market data collected recently by Kelton Global and Research as part of a study commissioned by smart home device specialist Nest. Greater convenience was the primary motivating factor, cited by 54% of survey respondents. Increased security (44%), reduced energy bills (38%) and increasing the value of homes (21%) followed.
The market opportunities may be there, but broadband service providers will have to prove capable of realizing them, Strategy Analytics' Director of Smart Home Strategies Bill Ablondi noted. "'Can be addressed´ are the operative words," he was quoted as saying.
"There are many different types of companies seeking to capture market share for one or more products and/or services in the smart home market including retailers, insurance companies, energy providers, security service providers and device manufacturers to name the prominent participants to date.
¨Service providers will have to effectively compete and/or partner with these types of companies in order to earn a viable market position. Success in the market will be based on a company's ability to develop and execute a sustainable business model.¨