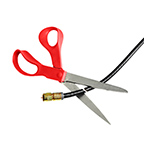 Broadband-only homes, defined as those with broadband but without a traditional linear pay-TV subscription, will grow from 23.3 million in 2018 to 40.8 million in 2023, according to a broadband-only homes forecast from Kagan. The firm is a media research group within S&P Global Market Intelligence.
The public is accepting the value proposition, the firm says. Factors in the success of OTT offerings are competitive prices and the ease of use of joining and canceling services.
"The value proposition of streaming video services touches a chord with the average consumer," said Tony Lenoir, Senior Kagan Research Analyst at S&P Global Market Intelligence, in a press release. "The vast majority of streaming services offer free trial periods, effectively allowing consumers to shop around while bypassing hardware hassles associated with legacy video distribution. This coupled with the fact that streaming services are typically screen-agnostic and seamlessly portable, offer individual, customized consumption for customers."
Broadband-only Homes Forecast
The press release offered two projections:
Kagan expects broadband-only homes to rise at an 11.9% compound annual growth rate from 2018 to 2023.
Broadband-only homes are set to account for 41.7% of wireline broadband households by 2023. Kagan expects cable and telco broadband to serve nearly 75% of U.S. households by that time.
There will be at least a couple of keys going forward. One is that the most successful traditional services may be those that convince their subscribers to remain, though with a lesser package (cord thinning) as opposed to leaving entirely. The other is, as Kagan points out in its release, many traditional providers see the way the wind is blowing and will launch streaming services.