Broadcast networks top the list for most desired TV channels groups, according to new skinny TV bundles research from The Diffusion Group (TDG).
In the survey of 2,030 connected consumers about the five network families they'd prefer to have included in a 5-group skinny TV plan, the Big-4 broadcast network groups occupied four of the top five spots, led by NBCU (selected by 48%), followed by Fox (41%), Disney/ABC (41%), and CBS (38%).
However, the legacy networks are also expected to continue to look to new ways to deliver their services, as we reported last week. TDG had reported that all the major television networks will offer standalone direct-to-consumer OTT streaming services by 2022.
Skinny TV Bundles Research
The TV network OTT trend began nearly three years ago with launches by HBO and CBS, each of which has grown to 5 million subscribers. Disney is nearing launch of ESPN Plus and plans a Disney-branded service for early next year. The service, which will feature animation and Marvel and Star Wars titles, will coincide with the expiration of Disney's contract with Netflix.
TDG says its most recent report offers insight into the viability of direct-to-consumer (DTC/D2C) services. For example, the fact that the ESPN family failed to rank in the top 10 suggests Disney's decision to make ESPN Plus a premium add-on to its linear ESPN channel may have been a wise move.
"Many expected ESPN Plus to be the online equivalent of ESPN, but Disney decided that the risk of cannibalizing high-value linear pay-TV subscriptions would create substantial channel conflict and hasten the declines in pay-TV subscriptions," the report says. "This risk is inherent in the DTC model and must be addressed group by group, even channel by channel."
Though ESPN Plus may be best positioned as a value-add to its live linear pay-TV service, Disney's family-focused DTC service appears destined to follow in the footsteps of CBS All Access — that is, serve as a full-on replacement to its linear channel, with a growing number of high-value titles reserved for the DTC service, according to TDG.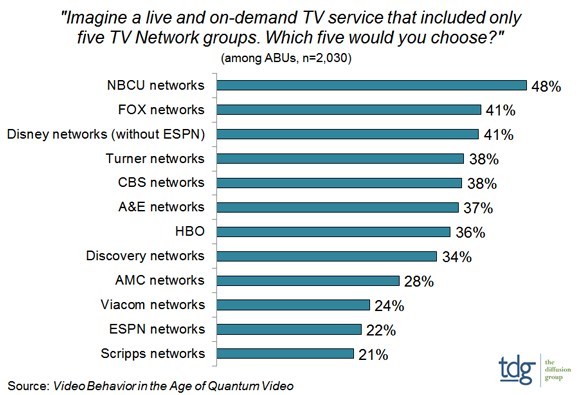 "Live Big-4 broadcast viewing is diminishing, as with virtually every major network. This should not imply, however, that their death as brands or as major forces in consumer video is inevitable," says Michael Greeson, Director of Research at TDG, in a prepared statement. "The value of their content is immense; top of mind for many viewers."
These standings also offer important insight into the viability of a new vMVPD entrant, Philo, which is populated by the channels of A&E, AMC, Discovery, and Viacom. While this may at first glance seem too specialized to gain mass appeal separate from a broadcast bundle, the combination of networks may prove attractive. Keep in mind that A&E was selected as top-5 by 37% of connected consumers, AMC by 28%, Viacom by 24%, and Scripps by 21%. "The potential is there, but having to pay $16-$20/month for a TV service without the Big-4 broadcasters and live sports may prove a bitter pill to swallow."