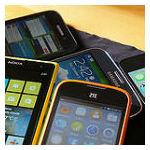 Though there is lots news about 5G, the handsets necessary for the networks to be used will remain scarce for the next few years, according to a 5G smartphones forecast from Strategy Analytics. The firm says that while handsets will go on sale early next year, scale will not be achieved until 2021 or beyond.
"5G smartphone sales will begin in China, Japan, South Korea and the USA from 2019," says Strategy Analytics Senior Analyst Ville-Petteri Ukonaho. "But volumes in 2019 will be in just the millions, and only barely in the tens of millions in 2020." Initial 5G handset availability challenges include lack of 5G networks, little handset choice, high prices and lack of compelling use cases.
5G Smartphones Forecast
That will gradually change, however. "By 2021, 5G networks in key countries in Asia and North America will cover many urban centers, giving customers a reason to purchase 5G smartphones," said Ken Hyers, Director at Strategy Analytics in the release. "Nearly 5% of handsets sold in 2021 will be 5G smartphones. By 2023, as 5G smartphone prices continue to fall and next-generation wireless networks are built out across much of the developed world, 5G handset sales will number in the hundreds of millions."
Existing technologies will hold the fort while this transition is underway. "Specifically, 2G and 4G handsets will continue to have long lifespans, with both carrying on into the next decade, even as 3G devices fade away," said Senior vice president David Kerr in the press release. Overall, despite the downturn in handset sales, there are strong pockets of opportunity, including first-time phone buyers in some developing countries.
Image courtesy of flickr user Jon Fingas.