The average fixed wireless speed used in the U.S. and Canada is 3.5 Mbps downstream, according to new research conducted by Preseem, a company that focuses on quality of experience monitoring and optimization for wireless internet service providers (WISPs).
It's important to note that 3.5 Mbps is not the average download speed offered by the WISPs, which is probably higher. Instead, the measurement is similar to the number that Akamai has measured, primarily for wireline broadband, in that company's periodic State of the Internet report. Preseem, like Akamai, takes measurements from internet provider networks to arrive at the average usage numbers.
Average Fixed Wireless Speed
Average fixed wireless speed was only slightly higher at peak times than it was overall, according to Preseem. However, the top 5% of users had dramatically higher average and peak time usage numbers – both of which measured between 9 Mbps and 10 Mbps downstream.
Preseem didn't gather information about the average speeds that wireless ISPs offer. But the data showing that the heaviest users peak out around 10 Mbps would seem to suggest that the average speed offered is also in that range.
Fixed wireless technology is advancing rapidly, however. While the average download speed offered to the embedded base of WISP customers may be in the range of 10 Mbps, the latest fixed wireless equipment offers considerably higher speeds. Some WISPs that won broadband funding in the recent CAF II auction have committed to offering 100 Mbps service.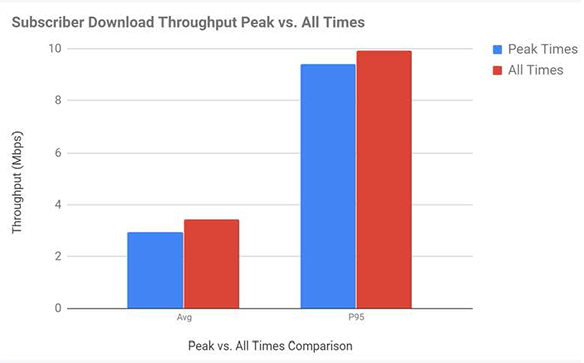 As of now, however, many WISPs appear to be emphasizing the number of customers they can serve from an individual access point over the maximum speed an access point can support. To illustrate this, Preseem noted that 80% of WISPs use 20 MHz channels and on average, those WISPs connect fewer than 10 subscribers per access point, with average subscriber download speed just under 4 Mbps.
WISPs that use 30 MHz channels, on the other hand, support close to 20 subscribers per access point but each subscriber's average downstream bandwidth usage is still below 4 Mbps.
Other interesting findings from the Preseem research:
WISP subscribers' daily data usage averages 5.6 gigabytes (GB) per day for a total of 167 GB per month
Average subscriber latency was less than 40 milliseconds overall and at peak times.
The embedded base of access points is comprised largely of equipment from Ubiquiti (45.7% of total) and Cambium (43.5%).
Preseem presented its research at the Wispalooza conference in Las Vegas today.
"We hope that this data is useful for WISPs to compare their businesses and to the fixed wireless industry in general," said Dan Diemon, vice president of product management for Preseem, in an email to Telecompetitor. "We plan to update this data twice a year – spring and fall in sync with the WISPA trade shows."