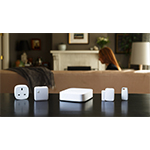 AT&T has about 308,000 smart home subscribers, according to new smart home market share research from Strategy Analytics.
That puts the carrier in third place among U.S. smart home service providers, behind two companies with roots in the home security business –Vivint and ADT. Combined, those two companies have more than 1.4 million smart home subscribers, according to Strategy Analytics.
Smart Home Market Share
Comcast ranks fourth in smart home market share with 280,000 subscribers, according to the researchers. Another telecom company (CenturyLink) and another cable company (Time Warner Cable, now owned by Charter) also are in the top 10 smart home providers. Their subscriber counts were 60,000 and 36,000, respectively, Strategy Analytics said.
The top 10 smart home providers have a combined 2.4 million subscribers, accounting for 80% of the total, researchers said. Researchers defined smart home services to include self-monitoring, notification, automation and energy management services – apart from or in addition to professionally-monitored interactive security. The smart home market has received a huge boost from smartphone adoption, as consumers see greater value in systems they can control remotely.
It's not surprising to see AT&T coming out on top among telco and cableco smart home providers, as the company has a large footprint of local service customers and has invested considerable resources in the smart home and home security market, even establishing its own cloud data center to support interactive home security and smart home services and monitoring. By and large, other telcos and cablecos use outside suppliers for that purpose.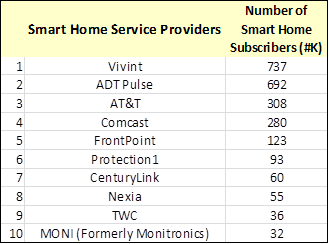 Why AT&T is considerably behind Vivint and ADT in smart home market share likely relates to focus. Both of those companies focus strictly on home security and home automation. ADT, in particular, has decades of experience in the home security industry and has made interactive services and smart home a strong focus for the company. Rumors that the company might be acquired by a telco or cableco circulate from time to time.
"[N]ot all who subscribe to professional security opt for automation of lights, climate control and other systems in the home," notes Strategy Analytics in a press release about the results.
But "the percentage that does opt for these features is quickly becoming a key success metric for interactive security providers," notes Joe Branca, principal analyst and co-author of the Strategy Analytics smart home market share study, in the release. "Customers with full smart home solutions are 'stickier' customers and are willing to pay higher monthly fees."
AT&T, Comcast, CenturyLink and TWC/Charter are not the only telcos and cablecos to pursue opportunities involving smart home and home security. Just about all of the major players have pursued this market to some degree, as have some smaller players including rural carrier Clear Creek Communications and Comporium.