AT&T had the highest satisfaction score among mobile network operators in the latest wireless customer satisfaction report from the American Customer Satisfaction Index (ACSI). AT&T had a score of 75 on a 100-point scale, a bit higher than the industry average of 74 points.
T-Mobile followed at 74 points, followed by Verizon at 73 and U.S. Cellular at 70.
Consumers are a tad more satisfied with their wireless service than they were last year. This year's average score was 1% higher than the score for 2022.
AT&T and Verizon both scored 80 for "call quality and reliability" and for "network coverage and data speed." T-Mobile scored 78 in those categories. U.S. Cellular scored 74 for "call quality and reliability" and 73 for "network coverage and data speed."
MVNO Satisfaction
The report looked at various subgroups. Satisfaction with full-service mobile virtual network operators (MVNOs) increased 1% to 74. Value MVNOs rose 3% to 77. Customer satisfaction with cell phones stayed at 79.
Cricket Wireless (unchanged) and Metro by T-Mobile (up 3%) led the full service MVNO category at 76. Spectrum was next at 75, with Xfinity Mobile slipping 3% to 74. Boost Mobile was last at 71.
Consumer Cellular led the value MVNO category – as well as all carriers – with a score of 82. That score was reached due to a 5% increase. Mint Mobile scored 79 in its debut on the list. Straight Talk Wireless rose 1% to 77.
Google Fi also debuted with a score of 76. Tracfone also scored a 76. Walmart Family Mobile scored a 74 and Simple Mobile sank 4% to score a 70.
The report looked at the nexus of cost and satisfaction. The most dissatisfied customers spend between $251 and $500 per month and the least loyal spend between $151 and $250 per month.
The report was based on 15,881 randomly chosen wireless customers. It was conducted between April 2022 and March 2023.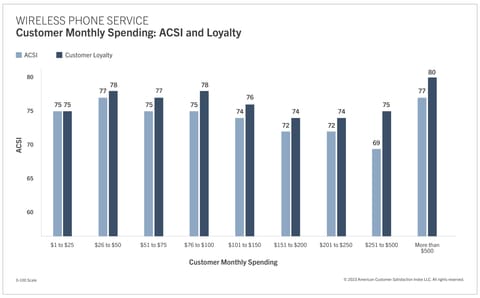 "This year, incremental customer satisfaction growth across three categories of wireless phone service may be a sign that things are moving in the right direction for the industry overall," Forrest Morgeson, the, Assistant Professor of Marketing at Michigan State University and Director of Research Emeritus at the ACSI, said in a press release.
"As the demand for wireless services continues to grow, the healthy uptake in 5G capabilities could lead to more satisfied customers in the future. On the manufacturer side, ACSI data show a clear consumer preference for devices with 5G capability across all companies."
Last May, the ACSI reported that customer satisfaction had dipped 1.4% to 73. This means that the index essentially is where it was two years ago.