Recent data from Kagan, S&P Global Market Intelligence reveals vMVPD ARPU of about $37 per month, but growing. That ARPU has significant implications for video providers, who are increasingly looking to vMVPD services to address changing consumer video consumption behaviors.
A number of vMVPD services have come to market in the past few years including DISH Network's Sling TV and AT&T's DIRECTV NOW, who collectively have over 4 million subscribers. Kagan, S&P Global Market Intelligence forecasts vMVPD revenue of $2.8 billion in 2018, growing to $7.7 billion by 2022.
vMVPD ARPU is on the rise, as a number of these services just raised their prices by $5 per month, including DIRECTV NOW, Google's YouTube TV, and Sony's PlayStation Vue.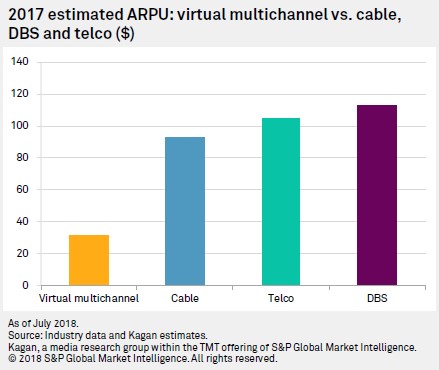 For traditional pay-TV providers, including AT&T and DISH, vMVPD services have been critical, as cord cutting has hit their core pay-TV base quite hard. Sling TV and DIRECTV NOW have managed to help both companies see net video subscriber growth, amidst heavy traditional pay-TV losses. AT&T just announced 80K net video adds for 2Q18, despite losing 262K traditional video subscribers.
Unfortunately for them both, replacing higher paying traditional TV subscribers with a service that, on average, only provides 1/3 the revenue is challenging. AT&T has said they are counting on a much lower cost to deliver vMVPD services, combined with incremental revenue from integrated advertising and VoD to eventually make vMVPD services more profitable than traditional pay-TV. Time will tell if that actually plays out in the marketplace.
AT&T has diverse vMVPD pricing packages, ranging from $40 to $75 per month. Additionally, they just recently launched a $15 mobile-first package, AT&T WatchTV, which features content from their newly acquired TimeWarner Media unit.