Warding off challenges from other premium, as well as low-cost, competition, Apple's iPhone 6s and 7 models were the best selling smartphones worldwide in 2016, according to IHS Markit. Apple's latest smartphone, the iPhone 7 was the top seller in 4Q last year, with the iPhone 7 Plus ranked second. The 6s model took the crown for all of 2016.
IHS Markit's latest data reveals that Apple continues to be astute in its assessments of smartphone users' shifting needs, preferences and tastes, and technologically creative and skilled enough to come up with new features and designs to meet, or even exceed, them, according to the market research provider. That keeps it a step ahead of competitors' offerings and cultivates a perception of greater value among consumers despite the premium prices Apple charges.
Furthermore, Apple benefits from the popularity of its older iPhone models, which translates into longer than average product life-cycles. Now a year old, iPhone 6s and 6s Plus numbered among the most shipped of the 350-plus smartphone models IHS Markit tracks.
Best Selling Smartphones
Apple's closest competitor for the title of the world's largest smartphone manufacturer is Samsung, whose Galaxy S7 Edge and S7 ranked fifth and ninth, respectively. Sales of Samsung's latest smartphone models have outpaced those of their immediate predecessors, the S6 and S6 Edge, with global 2016 S7 and S7 Edge unit shipments surpassing sales of the earlier models by 10 million over equivalent time periods, according to an IHS Markit press release.
More broadly, Samsung smartphones claimed five of the top 10 spots on IHS Markit's top 10 most shipped smartphones of 2016. In addition to the S7 and S7 Edge, Samsung J series smartphones occupied the remaining three places in the top 10 ranking.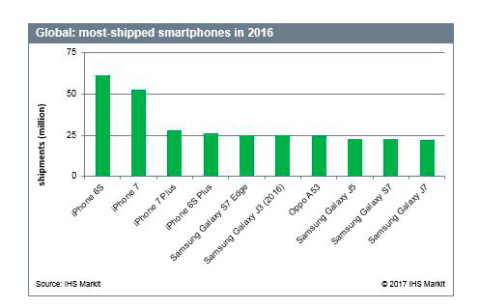 The world's third largest smartphone manufacturer, Huawei did not have any smartphones on IHS Markit's top 10 sellers list. Akin to Samsung, the China-based OEM continues to follow a broad-based strategy by targeting multiple smartphone pricing tiers, either with its own branded models or those of its Honor sub-brand. Zooming in on the premium pricing tier, Huawei's P9 numbered among IHS Markit's top 5 most shipped smartphone models last year.
Registering 109% year-to-year growth, China's OPPO rose up the ranks of the world's leading smartphone OEMs, rising to fourth place, up from seventh in 2015. In contrast to Huawei, OPPO's smartphone portoflio is much smaller and concentrated in China to a much greater degree. More than 80 percent of its 2016 unit shipments were within its home market.