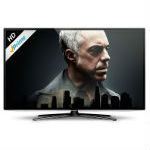 Nearly two-thirds (63 percent) of subscribers to Amazon Prime – the online retail giant's all-inclusive membership package – are more likely to use Netflix in the previous month compared to Amazon Prime Instant Video, according to new market research from Strategy Analytics. Forty percent of those surveyed viewed streaming video solely from Netflix, while 23 percent viewed streaming video from both Netflix and Amazon Prime Instant.
Thirty-six percent viewed streaming video from Amazon Prime Instant Video alone. "In contrast to countries such as the UK and Germany, Americans are more likely to subscribe to Amazon Prime for free 2 day shipping than for Prime Instant Video," Leika Kawasaki, Strategy Analytics' digital media analyst, was quoted in a news release.
"For example, Americans are twice as likely as Britons to cite free 2 day shipping as 'very important' in deciding to subscribe and they're less likely to use the video service regularly."
Amazon Prime Subscribers
Furthermore, less than half of U.S. Amazon Prime subscribers in the U.S. (44 percent) use the platform at least once a week, according to Strategy Analytics' research results. That compares to 55 percent in Germany and 54 percent in the U.K.
Kawaski says "Amazon is needlessly 'losing' users to Netflix when, in fact, it should be eating into their user base. Amazon Prime offers subscribers multiple benefits, there are more Amazon-capable devices and the subscription is slightly cheaper. Yes, Prime Instant Video has been lagging behind Netflix in original programming, but it's been making significant moves to address this recently."
Getting more people to use Amazon devices, such as the Kindle and Fire TV, is one means Amazon could employ to increase Prime Instant Video viewing and the number of subscribers, Kawasaki continues. Owners of these Amazon devices, he points out, "are 10 percent more likely to use Prime Instant Video regularly."
He adds, however, that "this won't be easy; Amazon has not had the same level of success as Apple in creating a unified system of devices and services."
Surveying online U.S. adults who don't currently subscribe to Amazon Prime, Strategy Analytics found that "12 percent are 'somewhat likely' to subscribe in the next year, while 4 percent are 'very likely.' The main reason people who won't subscribe (cited by 53 percent of respondents) is the price is too high."