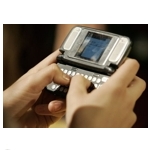 A Pew Research Center Internet & American Life Project survey reveals the habits and preferences of SMS texters. Seventy-three percent of the 83% of Americans who own cell phones send and receive text messages. Asked how they prefer to be contacted, 31% said they prefer text messages, 53% said they preferred a voice call and 14% said it depended on the situation, the researchers found.
Fifty-five percent of "heavy texters," those who exchange more than 50 text messages a day, would rather text than talk on their cell phones. Young adults are the most avid texters: cell phone owners between the ages of 18 and 24 exchange an average of nearly 110 messages on an average day. That's more than 3,200 a month. The median cell phone owner among young adults exchanges 50 messages a day, 1,500 a month.
Texting via cell phones has leveled off for the U.S. adult population overall, according to the survey findings. U.S. cell phone texters exchange an average 41.5 messages a day, with the median user exchanging 10 texts daily, largely unchanged from the Pew Center project team's survey findings a year ago. Voice calls, at 12 per day on average, were also unchanged from 2010.