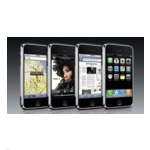 iPhone users, on average use more data than any other smartphone user, accounting for 80% of the top 10% of heaviest data users, according to new research from Analysys Mason titled  "Consumer smartphone usage: key findings from an on-device tracker."
It turns out that smartphone data traffic statistics "are very heavily skewed by the high data usage of a small group of individuals," according to an Analysys Mason press release. The heaviest smartphone users consume about 3.5 times as much data per month as the average user — about 807 MB in comparison with an average of just 221 MB per month. — according to the research.
Analysys Mason's analysis is based on data derived from Arbitron Mobile's on-device monitoring app, which provided access to smartphone behavior from more than 1,000 panelists from the US, UK, France, Germany and Spain over a two-month period. The data revealed how participants used their smartphones, including cellular and Wi-Fi data traffic, mobile app usage and mobile content integration.
Though there are more than 1 million mobile apps available, Analysys Mason found that panelists used an average 32.6 add-on apps. Forty-seven percent of those were used only once.
"This indicates that the mobile app market suffers from a significant amount of overhead," explained Ronan de Renesse, co-author of the report and principal analyst of Analysys Mason's Mobile Content and Applications and Mobile Broadband and Devices research programs. "Although it works as an innovation and experimentation platform, the app market has many failures and misconceptions."
Despite being similar in terms of overall mobile app penetration, Android and iPhone users used so-called "long-tail" apps– those outside the top 25% by number of users– ten times more than BlackBerry or Symbian smartphone users.
Analysys Mason also found that email usage is supplanting SMS as the leading smartphone communications tool, but only just: 97% of panelists used SMS as compared to 98% who used email. "Email, along with over-the-top messaging services, will probably continue to substitute for some SMS usage," explained Martin Scott, co-author of the report and principal analyst. "This raises questions as to whether SMS is sustainable as a chargeable service."
Other key findings in the report include:
75% of panelists used Wi-Fi on their smartphone
45% of panelists used instant messaging or over-the-top messaging services, almost half of whom used WhatsApp Messenger
More than 99% of panelists used their mobile browser at least once per day, for an average of 7.5 minutes per day
In the USA, 30% of consumers used more than 500MB of cellular data per month, compared with 13% in France and the UK, and only 8% in Germany
All mobile communications apps are used more by women than men, apart from mobile VoIP