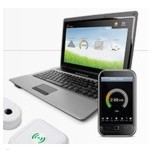 A new report from 451 Research found 71 percent of enterprises collecting IoT data. That's an increase of 3 percent from 3Q'16, according to the researchers.
Security continues to be the most frequently cited hurdle for Internet of Things (IoT) deployments. Half of the respondents to 451's latest quarterly "Voice of the Enterprise: IoT Workloads and Key Projects Survey" cited security as the top impediment to IoT deployments. Lack of Return On Investment (ROI) and benefits followed, cited by 41 percent, the market research provider highlights in a news release.
That said, enterprise businesses continue to plow money into IoT initiatives. Those with initiatives under way expect their mean IoT-related spending to rise by one-third over the next 12 months.
Percent of Enterprises Collecting IoT Data
In terms of use, 451 sees enterprises deriving the most value and benefits in applying IoT technology to data-hungry tasks, such as collection and analysis of financial, healthcare or industrial processes, as well as assessing the efficiency of specific operations or departments, a hospital emergency room, for instance.
Analytics are playing an important role in enterprises' IoT initiatives, 451 found. Just shy of 7 in 10 survey respondents (69%) said they're collecting data from IoT endpoints to reduce risks, assure security and comply with organizational and regulatory standards and requirements.
A lot of data is already flowing in automated fashion as a result of IoT tech – e.g. sensors and associated predictive analytics – installed in IT equipment, such as semiconductors, motherboards, servers, switches and routers, as well as smartphones, applications, cameras and HVAC systems.
"When it comes to IoT adoption, pragmatism rules," commented 451 research director and study lead author Laura DiDio. "The survey data indicates enterprises currently use IoT for practical technology purposes that have an immediate and tangible impact on daily operational business efficiencies, economies of scale and increasing the revenue stream."
Other key takeaways include:
90% of enterprises will increase IoT spending over the next 12 months and 40% of respondents will raise IoT-related investment by 25% to 50% compared to 2016.
Enterprises are split regarding a present IoT skills shortage: 54% of respondents to this question said lack of trained IoT staff is not an issue for their organization, versus 46% who said they are having difficulty filling IoT-related positions.
The latter group identified IoT security and data analytics as the areas with the greatest dearth of expertise.
68% of corporations currently take advantage of IoT data to optimize operations, such as performing preventative maintenance, and reducing downtime in factory equipment and fleet management.
42% of enterprises use IoT data to develop new products or enhance existing products and services.