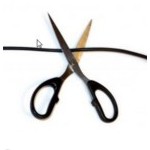 The cord cutting trend has usually been associated with home phone service and/or pay TV service, where consumers disconnect these monthly subscription services in favor of wireless only or OTT video alternatives. But as Strategy Analytics points out, cord cutting can also be associated with home broadband services. More than 6 million U.S. households will depend solely on a wireless or mobile platform (including 3G or 4G) to access the Internet. That's nearly 7% of total U.S broadband connections, and a 430,000 net increase from 2010 levels, according to a report from the Boston based market research firm.
Strategy Analytics isn't the only one forecasting explosive growth in mobile network capacity and traffic in the near future, though it expects that 4G won't take over as "the primary access medium in the home." Cable modems provide more than 50% of U.S. households with broadband connections, and that will increase slightly over the next five years, according to the company. DSL on the other hand is at risk, as consumers opt for either FTTH or mobile broadband only options.
"We see two parallel markets for 'Mobile Only' in the U.S.: users in remote or underserved areas where dependable fixed broadband is unavailable, and cost-conscious casual users, who are unlikely to exceed imposed data caps, and for whom mobile data rates are 'good enough,'" said Ben Piper, Director of the Service Provider Strategies program at Strategy Analytics.