The power of 5G won't be cheap, Strategy Analytics points out in a new report about 5G smartphone costs. The phones are expected to sell for more than $1,000 ($750 wholesale) when they are introduced sometime next year, according to the analyst firm, which adds that 5G device prices will decline at a much slower pace compared to 3G and 4G handsets.
At those prices, subsidies will need to return for acceptance of these devices by the mass market, the firm adds.
5G Smartphone Costs
Despite all of the hype 5G has received, the technology isn't a panacea for operators or device vendors, which will still need to put in plenty of work, experimentation and suffer some failures over the next five years, the analyst firm points out, while adding that the list of top device providers could change with the introduction of the new smartphones.
Vendors that want to succeed with the new technology must strive to be global and minimize market specific SKUs where possible, the analyst firm adds.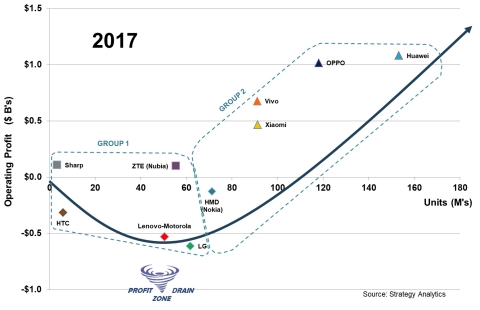 "5G has many more risks than rewards for most vendors in the short term. We believe caution about the speed of 5G ramp up and slope of the price/performance curve for devices is critical," said Strategy Analytics senior analyst Ville-Petteri Ukonaho in a press release about the 5G smartphone costs research. "Unlike current generation smartphones, 5G devices will require a number of changes in order to provide the best performance, including new chipsets and additional antennas. 5G devices will be the most complex and expensive ever."
In prepared statement, David Kerr, Strategy Anlytics SVP added: "The history of the mobile industry teaches us that with every transition from one wireless generation to the next at least one top vendor has found itself wrong-footed by the transition and has seen its market share collapse (i.e. Motorola and Nokia). Could Huawei be the next? Or will Samsung's lack of presence in China see it vulnerable?"