Nearly one quarter (23%) of vMVPD subscribers also have traditional pay-TV subscriptions, according to a new report from TDG, a division of Screen Engine/ASI.
It's a surprising finding, considering that virtual multi-channel video programming services, streamed over a broadband connection, are designed to replace traditional pay-TV offerings such as cable and satellite TV.
The research said that as of 2018, many consumers found the traditional service necessary because their vMVPD provider's service didn't include the major networks – ABC, CBS, Fox and NBC. At that time, 37% of vMVPD subscribers also had a pay-TV subscription.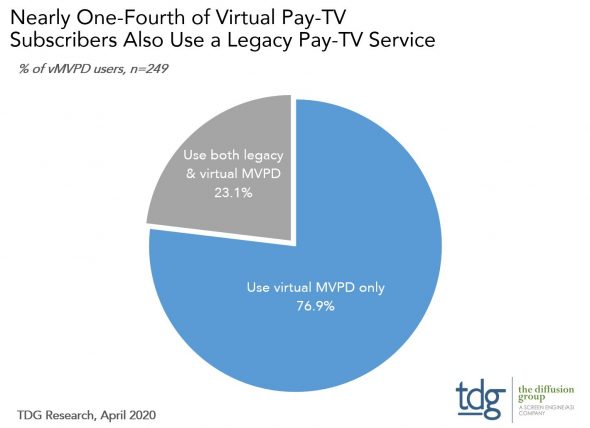 The need for a second service has dropped significantly as Hulu Live TV and YouTube TV – both of which include programming from the major networks – have become market leaders. As a result, TDG predicts that dual service use will fall to only 10% by 2022.
"Simply adding legacy and virtual pay-TV subscription counts to arrive at cumulative estimates of pay-TV subscriptions is invalid," said Michael Greeson, TDG co-founder and president, in a prepared statement about the research on vMVPD subscribers. "The overlap between the two services should be recognized, as it is quite real, and speaks to the continuing reticence about service substitution value among many virtual pay-TV users."
As more vMVPD  providers add channels to their initial "skinny bundle" offerings, those packages are becoming more popular, Greeson added: "Most OTT pay TV services now provide a full complement of both broadcast and cable channels, meaning they are more capable of competing head-to-head with 'fat' legacy offerings. This, in turn, has led to a decline in the number of dual-service users."
Research firm MoffettNathanson has a bit different take. They said late last year that vMVPD services weren't satisfying consumers' appetite for television content, so only about 40% of people who cancel traditional linear TV convert to a vMVPD service, as Telecompetitor reported.