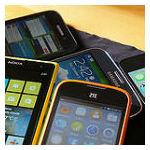 Global 2016 smartphone shipments reached a record high 1.5 billion units, a 3 percent year-over-year increase, according to the latest market data from Strategy Analytics. Growth picked up in 4Q, rising 9 percent year-over-year, as 438.7 million smartphones were shipped worldwide – the fastest growth registered in more than a year.
Ending the year on a strong note, Apple regained its market leadership among smartphone OEMs in 4Q, shipping 78.3 million iPhones to overtake Samsung and earn an 18 percent market share for the quarter, the market research provider highlights.
"Smartphone growth is recovering slightly due to stronger demand in major developing markets like China and Africa," commented Strategy Analytic's Director Linda Sui. "Global smartphone shipments grew 3 percent annually from 1.44 billion in full-year 2015 to a record 1.49 billion in 2016."
2016 Smartphone Shipments
4Q 2016's performance marked Apple's best quarter for iPhone shipments in over a year, as the manufacturer benefited from Samsung's problems, Strategy Analytics notes. Apple remained in 2nd position on an annual basis, shipping a total 215.4 million iPhones in 2016, down from 231.5 million in 2015, for a 2016 market share of 14.5 percent.
Samsung's shipments suffered in 4Q as a result of problems associated with its Galaxy Note 7 batteries and other missteps. Samsung's 4Q smartphone shipments totaled 77.5 million units, down 5 percent annually, for an 18 percent quarterly market share, Strategy Analytics reports.
Samsung held on to first position among smartphone OEMs for the full year, but it turned in its worst annual performance since 2011. The South Korean market leader shipped a total 309.4 million units in 2016, down from 319.7 million in 2015, to end the year with a 21 percent market share.
China's Huawei shipped 138.8 million smartphones in 2016, up from 107.1 million in 2015, to hold on to third place among smartphone OEMs. Huawei's 4Q market share rose to a record high 10 percent, reaching double digits for the first time.
Image courtesy of flickr user Jon Fingas.