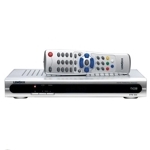 With built-in TV tuners and Internet modems, hybrid set-top boxes (STBs) are akin to hybrid electric vehicles that run on petroleum fuels and electricity, and they're a fast-growing segment and key market growth driver for players in the global STB industry, according to a new report from NPD In-Stat, which forecasts that 100 million hybrid STBs will ship worldwide in 2015.
In turn, growing production and sales of Internet-connected TVs are a key factor that will support growth of hybrid STBs, according to NPD In-Stat's "Worldwide Hybrid Set Top Boxes" report.
"As the STB industry continues its forward march, the next logical iteration is for the set top box to enhance and expand traditional TV-related services by permitting access to content from the Internet, or from Internet-like web services that provide a 'walled garden' of authorized content," says research director Gerry Kaufhold.
A la Boxee STBs, "By combining traditional TV services with 'enhancements' that come in via broadband, content owners and service providers think they can successfully compete with all the emerging over-the-top approaches," he adds.
Among the research findings in the report:
Over 23 million hybrid STBs will ship in North America in 2012
The Asia Pacific annual revenue will approach $1.5 billion in 2015
Satellite hybrid STBs will represent 58% of the hybrid STB market in 2013