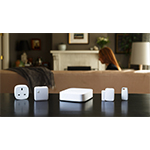 Travelers are more willing to make a reservation for short-term rental housing if the housing has smart home features, according to a rentals and smart home survey conducted by Edelman Intelligence for  smart home products provider August Home, Inc.
Eighty percent of vacation guests and 92% of business travelers said they would be more likely to complete a reservation for short-term accommodation rentals that were equipped with smart home technology, such as smart door locks, lighting, smart TVs, entertainment systems and doorbell cameras.
The Rentals and Smart Home Survey
Personal mobility, more frequent air travel and the rise of the sharing economy are fueling growth in short-term accommodation rentals, according to the rentals and smart home survey from August Home/ Edelman. Short-term renting of rooms, apartments and homes will generate $51 billion in revenue globally by 2020, according to the study titled ¨Short-term Rentals: Smarter Housing with Smart Home Technology." Short-term rentals provide a superior experience than do hotels, according to nearly 8 in 10 guests (78%) surveyed.
Six in 10 guests surveyed said they would pay more for a vacation rental with smart home features.Guests expressed interest in a variety of smart home technologies, including: smart TVs (93%), app-controlled door locks (86%) and streaming media systems (86%).
Locks Are Particularly Critical
Four in 10 guests (39%) said the rental experience would be less stressful if they could close and lock the doors upon checking out. Thirty-five percent of hosts said they appreciated being able to see, speak with and grant access to people at the door remotely.
According to August Home:
Guests indicate that not needing to worry about being locked out (53%), not having to coordinate with Hosts when arriving or departing the property (48%), providing an easier system for checking-in and checking-out (46%) and the ability to remotely confirm they have locked the door when they leave the rental (45%) would make the rental experience less stressful. Clearly, smart locks can help Guests enjoy a carefree, key-free stay.
For Hosts, stress-relievers include not having to worry about Guests forgetting to lock the door (66%), and no more hiding keys where someone besides the Guest might find them (34%). Accordingly, 45% say one of the most beneficial aspects of smart locks is that their rental properties would be more secure.
"The short-term rental market continues to grow, fueled by tech innovation," August Home CMO Kathy Sanders summed up in a statement.
"The simple addition of a Smart Lock and a Doorbell Cam helps new Hosts get into the hosting business. Now they can greet Guests and manage their property from anywhere. And for Hosts that have already adopted smart technology, they are able to deliver an even more enjoyable, hassle-free rental experience, whether their Guests are on vacation or in town for business."
Vacationers account for 75% of all those who rent short-term accommodation, but the percentage of business travelers doing so – now at 23% –  is on the rise, according to August Home.
Four in 10 vacationers (39%) and 22% of business travelers cited feeling more at home and having all of a home's amenities as the top reason they chose to rent short-term accommodations as opposed to alternatives, such as staying in a hotel or inn.
Overall, 77% of guests said they believed short-term rental hosts would do anything to ensure guests had the best possible experience. That compares to 53% who said the same for hotels.