Minnesota based regional carrier Arvig is expanding its reach into the education vertical throughout Minnesota by acquiring AGL Consulting. AGL serves the education industry with a variety of networking services and operates a 229 route mile fiber network in and around the Twin Cities of Minneapolis/St. Paul.
Arvig operates a 2,600 route mile network throughout the state of Minnesota, covering 9,000 square miles. They currently serve approximately 125K residential and business customers across 74 Minnesota communities.
Arvig Acquires AGL
The AGL acquisition adds 229 route miles of fiber in the Twin Cities market, bringing Arvig's total metro fiber footprint in Minnesota to over 820 route miles. In addition to the 400G Cisco IP core fiber transport network, AGL brings an existing client base which includes seven colleges/schools, and a variety of government and other enterprise clients.
"The acquisition of AGL's fiber assets compliments Arvig's strategy to expand deeper into the commercial and education fiber community, providing point-to-point service in the Twin Cities as well as throughout the State of Minnesota," said David Arvig, Vice President/COO in a press release. "This purchase in particular broadens our presence in St. Paul and Carver County as well as in the education industry."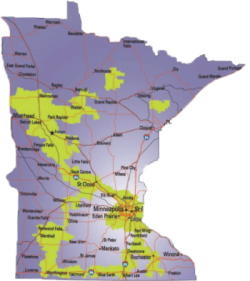 Beyond providing residential triple play services, Arvig has steadily been growing its business and fiber transport business lines. Arvig's network design is distributed across four nodes, three data centers, and a direct connection to the 511 Building, a major telecom hotel in Minneapolis.
"While our roots are in rural Minnesota, we know our future includes growth into the Minnesota's metro areas and beyond," said David Arvig, Vice President/COO in a statement to Telecompetitor.
Terms of the AGL acquisition were not disclosed.