A new Apple streaming video service, Apple TV+, was unveiled yesterday, joining an already crowded field of streaming options. Reactions have been quite mixed, with some suggesting the launch event was a "dud." Apple's strategy appears to be two-fold, with an emphasis on new original content and a streaming experience that includes a bit of a surprise from the technology giant.
Apple will have its hands full with the strategy. There is already a plethora of streaming options from some category leading names like Netflix and Amazon. Not to mention additional options coming from Disney and WarnerMedia (AT&T) later this year. So how in the world do you differentiate in this environment?
Well it helps to have Steven Spielberg, J.J. Abrams, Oprah Winfrey, and Jennifer Anniston, among other A-list Hollywood talent, participate in your launch event, promising a slate of new and original TV shows and movies to come from the service. And that's clearly one of Apple's key strategies, as it is for other streaming services – compelling content that you can only get from subscribing to the service.
"On the Apple TV® app, subscribers will enjoy inspiring and authentic stories with emotional depth and compelling characters from all walks of life, ad-free and on demand," Apple notes in a press release. Eddy Cue, Apple's senior vice president of Internet Software and Services adds, "We're honored that the absolute best lineup of storytellers in the world — both in front of and behind the camera — are coming to Apple TV+."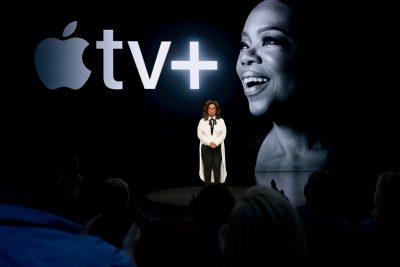 While the A-list effort was impressive, some industry analysts think it's not nearly enough to effectively compete in today's streaming environment. "Apple also unveiled its SVOD service, Apple TV+ but like its Apple TV counterpart it too was far more hype than substance," says market research firm Strategy Analytics. "With A-list talent like Steven Spielberg, J.J. Abrams, Oprah, Jennifer Aniston, and Jason Momoa, Apple's unveiling was not without star power, but to compete against the likes of Netflix, Amazon Prime Video, Hulu, and Disney's soon to launch SVOD service Apple is going to need a deep, rich catalogue of titles, which they just did not show here."
More Access Options, Little Pricing Data
The second part of the strategy is where it gets a little interesting. The new Apple TV app will aggregate access to content from a variety of sources, with a single sign-on. In addition to a slate of on-demand content, subscribers will also be able to access pay-TV services from other providers including Charter Spectrum, DIRECTV NOW and PlayStation Vue. Optimum and Suddenlink from Altice will be added later this year, according to Apple.
Additionally, subscribers can add channels from HBO, Starz, SHOWTIME, CBS All Access, Smithsonian Channel, EPIX, and others, with more options on the way.  It's being reported that HBO and Starz will be available through Apple for $10/month. Apple did not reveal any pricing for these new services, which will begin rolling out later this year. This lack of pricing data, among other issues, did not please Wall Street analysts. Apple's stock price was down after the event.
In a CNBC report, 'Wall Street calls Apple event a dud,' Goldman Sachs analyst Rod Hall offered this. "Apple's services reveal was materially different than we had anticipated. With small calculated impacts from these 'other services', we expect the focus to return to the slowing iPhone business post this event." Other analysts offered similar pessimistic views, particularly since Apple offered no pricing or bundling strategies.
"Particularly with expectations being high relative to the launch of a video subscription, the launch of Apple TV+ as a pure aggregator, with little value for users outside of the convenience of access to all subscriptions through one application, likely left investors disappointed on the value proposition that would allow it to compete effectively against large streaming players despite being a late entrant in the market," added an analyst from J.P. Morgan.
Perhaps the most interesting development to me was news that this new Apple TV app will also be available on non-Apple platforms, including Roku, Amazon Fire TV, and a variety of smart TV platforms including Samsung. No need for an Apple device to get access to this new Apple service. That seems like a significant departure from Apple, who has historically used a walled-garden approach, with its devices at the center of the strategy.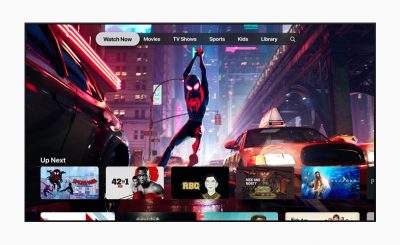 It's illustrative of a brave new streaming world. On the surface, Amazon and Roku are direct competitors to Apple TV, but that didn't stop them from supporting the new Apple TV app. It also didn't stop Apple from adding Amazon Prime within the new Apple TV app. And this comes in a time where consumers are signaling a bit of streaming fatigue, with so many options to figure out.
Apple looks like they're trying to address that issue by aggregating several services and options into one app, with one sign-on. But my guess is, even within that app, the number of options and configurations could still be quite confusing to the average consumer. Apple says a recommendation engine will help simplify the experience. "The new Apple TV app personalizes what viewers love to watch across their existing apps and services while developing a secure and comprehensive understanding of users' viewing interests. The app will offer suggestions for shows and movies from over 150 streaming apps …," the press release states.
Apple is making a strategic shift with the launch of Apple TV+, looking to lessen its reliance on devices for revenue and profits. In addition to Apple TV+, Apple announced new subscription services for news and games, as well as a new Apple credit card. There is considerable skepticism, particularly from the financial community, as to whether Apple will succeed with this strategy.  Their first major push appears to be somewhat underwhelming to many.