The top 10 winners in the recently completed Rural Digital Opportunity Fund (RDOF) Phase 1 auction will take home just over three quarters (76%) of the total $9.2 billion in funding awarded through the auction. As an RDOF winner map from Cooperative Network Services (more on that later in this post) shows, nearly all the top winners plan to deploy service supporting gigabit speeds throughout a large part, if not all, of the areas for which they won funding.
The one exception is SpaceX, which delivers broadband service from non-geostationary satellites. That company plans to deliver service supporting speeds of 100 Mbps downstream and 20 Mbps upstream.
Of the other top 10 winners, three are major telecom providers (CenturyLink, Frontier and Windstream), one is a consortium of rural electric membership cooperatives (REMCs), one (Charter) is a cable company that also offers broadband and the other four are wireless internet service providers (WISPs) that traditionally have provided service using fixed wireless.
Top RDOF Winners
| | | | |
| --- | --- | --- | --- |
| | | | |
| Rank | Entity | Types | Winnings ($M) |
| 1 | LTD Broadband | WISP | 1595 |
| 2 | Charter | Cable | 1300 |
| 3 | Rural Electric Cooperative Consortium | REMC Consortium | 1100 |
| 4 | SpaceX | Satellite | 886 |
| 5 | Windstream | Major Telco | 523 |
| 6 | AMG Technology (Nextlink) | WISP | 429 |
| 7 | Frontier | Major Telco | 371 |
| 8 | Resound Networks | WISP | 311 |
| 9 | Connect Everyone (Starry) | WISP | 269 |
| 10 | CenturyLink | Major Telco | 262 |
Source: FCC, Telecompetitor
How to Deliver Gigabit Speeds
Look for the REMCs to deploy fiber-to-the-premises (FTTP) technology to support gigabit speeds. A consortium with the same name and some of the same membership won big in the 2018 Connect America Fund CAF II auction, a predecessor to the RDOF auction—and consortium members are deploying fiber gigabit service using the funding they won in that auction.
Some of the WISPs also may be planning to deploy FTTP to support gigabit service, but they also may be planning to use fixed wireless for some deployments as well. Starry, for example, was a big winner of millimeter wave spectrum in a previous auction. And that spectrum can support relatively high speeds, albeit over relatively short distances.
The big telcos also may be planning to deploy FTTP to meet their gigabit obligations, but at least one—Windstream—is likely to use fixed wireless, at least for some of its wins. Like Starry, Windstream also was a big millimeter wave spectrum winner and has made no secret of its interest in using fixed wireless to support gigabit speeds.
That leaves Charter. The cable company already has been deploying fiber in rural areas – 30% of the company's recent new builds were in rural areas and the company sees subsidized rural expansion as a key driver of customer growth. The company has explored fixed wireless, but to date has emphasized fiber for new builds and I wouldn't expect that to change.
Despite the dominance of the top 10 RDOF winners, 170 other entities also won funding and will share the remaining 24% of the funding awarded. The total amount of companies that will receive funding is even larger because multiple consortiums bid as individual entities.
Among the smaller winners were rural telcos, more REMCs, smaller cable companies and others. Some big companies that won relatively small amounts of funding were Cox, which won $6.6 million and Hughes, which won $1.3 million.
Overall, 85% of winning bids were for gigabit services, according to the FCC, and almost 99% of eligible areas received a winning bid.
RDOF Winner Map
Rural broadband consultancy Cooperative Network Services put together a useful interactive map of RDOF winners. Readers can adjust the settings on the RDOF winner map to display winnings for individual companies and by speed tier.
Paul Solsrud, product manager for Cooperative Network Services, expressed concern about how much funding might potentially be going to fixed wireless providers committing to provide high speeds.
"When comparing the initial cost estimate amounts based on the Connect America Model's cost estimates ($29B) to the ending auction totals in the $10B range, it's not clear whether these rural areas will get quality networks, much less the gigabit networks promised in the bids from WISPs," wrote Solsrud in an email to Telecompetitor.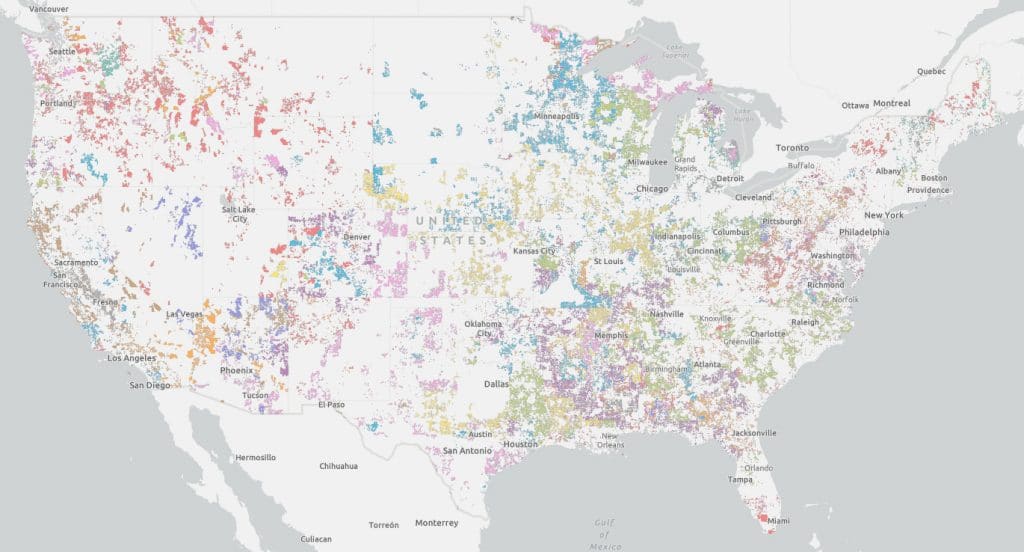 Solsrud also speculated about the remaining $6.8 billion budgeted for the RDOF auction but not awarded and which will roll into a second phase RDOF auction that has not yet been scheduled. That auction had been budgeted for $4 billion but will now potentially have a budget of $10.8 billion.
"It's not clear as to how a second RDOF round with even more funding than the entire first round of winning bids, will be allocated to a much smaller geographic area," Solsrud commented.