Tarana, who is expected to supply gigabit fixed wireless for at least one or two of the biggest winning Rural Digital Opportunity Fund (RDOF) bidders made some product announcements this week. Telecompetitor talked with Dirk Gates, Tarana's president, about the technology underlying its equipment.
Tarana announced new hardware that will be able to use spectrum in the 5 GHz and 6 GHz bands, as well as new software that supports what the company calls G1x2 mode. That mode enables the new hardware or the previous version of the hardware to use up to 160 MHz of spectrum. The previous version of Tarana's offering worked only in the 5 GHz band and could use only 80 MHz of spectrum.
Spectrum in both the 5 GHz band and 6 GHz band is available on an unlicensed basis.
The news comes just one week after the company announced that Nextlink, one of the top 10 winning bidders in the RDOF auction, would use Tarana equipment. Nextlink plans to use fixed wireless, along with fiber broadband, to support service at speeds of 1 Gbps downstream and 500 Mbps upstream. The provider won $429 million in the auction and recently had funding authorized by the FCC.
Another one of the top 10 winning RDOF bidders – Resound Networks – has not yet had its funding authorized, but also plans to use a combination of fixed wireless and fiber broadband to support gigabit speeds. Resound has touted the ability of Tarana equipment, as well as equipment from at least two other manufacturers, to support the speeds required for RDOF builds.
The RDOF auction awarded funding to cover some of the costs of deploying broadband to unserved rural areas, with funding for an area tentatively awarded to the company that committed to deploying service for the lowest level of support. A weighting system favored bids to deploy 1 Gbps/ 500 Mbps service and when Nextlink, Resound and others had winning bids based on using fixed wireless to achieve those speeds, there were a lot of skeptics who argued that the technology was unproven in rural areas.
Unsurprisingly, the FCC took a long time to evaluate winning bids from companies planning to deploy gigabit fixed wireless. Nextlink waited over 18 months for authorization. Resound has been waiting even longer, as the company's final authorization may have been delayed as the result of comments made to a media outlet about its deployment plans.
The upshot is that the FCC apparently has become a gigabit fixed wireless believer. And Tarana appears to have had a hand in convincing the commission about gigabit fixed wireless.
Gigabit Fixed Wireless
Gates supplied us with a lot of detail about Tarana's technology, which is considerably different from that of some other manufacturers that tout gigabit fixed wireless speeds. Some other manufacturers use a high-frequency millimeter wave spectrum, which supports high speeds over relatively short distances. To overcome the distance limitations, the manufacturers use a mesh approach in which each customer's equipment acts as a repeater for other customers.
The speeds that any swath of spectrum can support depends on more than just frequency, however. How much spectrum is available also has a big impact, and there's a lot of spectrum in the 5 GHz and 6 GHz bands – hundreds of megahertz.
Because Tarana doesn't rely on millimeter wave spectrum, it doesn't use a mesh approach but instead uses a macrocell approach. According to Gates, each macrocell tower can deliver speeds of 1 Gbps downstream and 500 Mbps upstream over distances as great as four miles when there is a clear line of sight between the tower and the customer and over distances as great as half a mile without a line of sight. At lower speeds, coverage can be as far as 20 miles with line of sight, he said.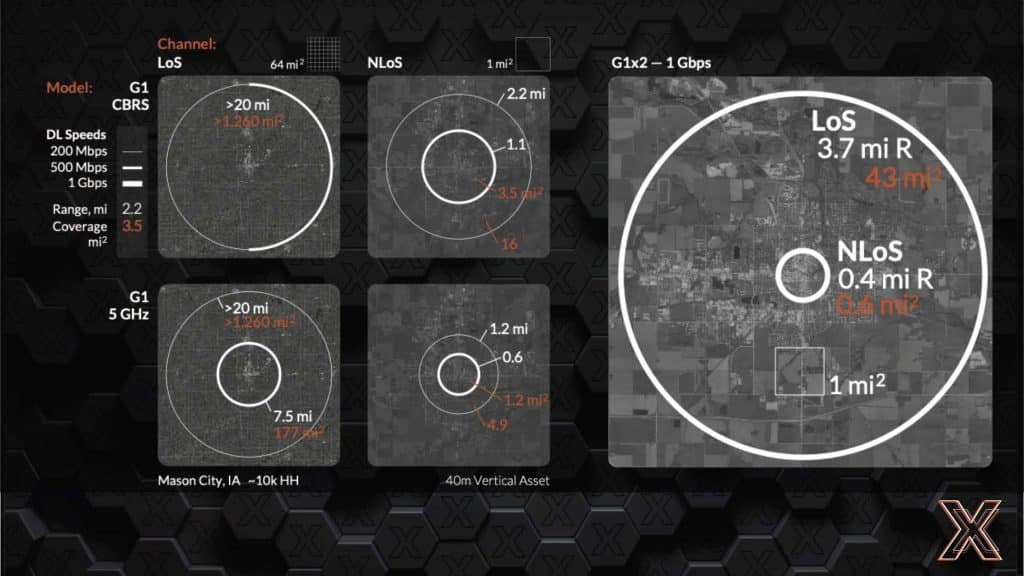 As many as 1,000 customers can be supported per macrocell, he said – although not all of them would be able to get gigabit speeds simultaneously.
Gates cited another Tarana differentiator.
"We built our own system from the ground up," he said, adding that the customer premises equipment (CPE) on the side of the house is "virtually a mini base station."
Most fixed wireless manufacturers base their systems on either Wi-Fi or 3GPP technology, neither of which is optimized for fixed wireless and neither of which has spatial awareness of RF energy, according to Gates.
When Tarana CPE receives RF energy from the tower, it sends RF energy back in the same direction, Gates said. It also assumes RF energy coming from other directions is interference and cancels it.
Mid-Year 2023 for 6 GHz
Readers may recall that when the FCC freed up spectrum in the 6 GHz band for unlicensed use, it said that equipment operating in the band for outdoor use would have to support automated frequency coordination (AFC) to avoid interfering with incumbent users. According to Gates, the incumbent users primarily use the band for point-to-point microwave backhaul.
AFC functionality isn't available yet, making it the gating item for outdoor deployments in the 6 GHz band, although some testing has been done using temporary licenses, Gates said. He expects to see operational AFC capability by the middle of next year.
It's also worth noting that one other big RDOF winner that has been authorized to use a combination of fixed wireless and fiber broadband for gigabit deployments uses yet another approach to fixed wireless. That company, Starry, developed its own equipment, which we covered in a previous post at this link.
Additional details about Tarana's product news can be found in this press release.