Close to 500 network operators could be bidding in the upcoming Rural Digital Opportunity Fund (RDOF) auction, which will award up to $16 billion in funding for rural broadband. Among the bidders: large and small telcos, cable companies, rural electric companies, fixed wireless internet service providers (WISPs), satellite broadband providers and more.
Cooperative Network Services, a consultancy specializing in rural broadband, recently undertook the major task of creating an RDOF auction bidder map that plots the current serving areas of the majority of companies that applied to bid in the auction.
The map should be useful to anyone planning to bid in the auction or who is just interested in rural broadband and bridging the digital divide.
RDOF Bidder Map
A few caveats about the Cooperative Network Services map: It doesn't include the nation's largest, publicly held telcos (the price cap carriers); the largest cable companies; satellite providers (who cover just about everywhere); consortia or bidders that didn't offer service as of when FCC broadband availability data was collected and for whom additional serving area information could not be found. Also excluded are entities bidding under disguised names and whose identity couldn't be confirmed.
All told, the map includes current serving area information for 366 of the 505 providers that applied to bid. The map includes companies that submitted incomplete applications, as well as those that submitted complete applications, and that's reasonable, considering what happened in the 2018 Connect America Fund CAF II auction. In that auction, which also awarded funding for rural broadband, most of the companies that initially filed incomplete applications were eventually able to bid.
The most important take-away can be seen if you compare the map of areas currently served by companies that are expected to bid in the auction with the map of areas eligible for the auction. Both maps are available at this link.
If you compare the two maps, they look somewhat similar – not a direct correspondence, but similar enough to say that many unserved areas have potential bidders operating nearly. And that's important because certain types of bidders tend to bid on areas near where they already operate. This is particularly true for small rural telcos and rural electric companies that tend to deploy the highest-speed fiber-based services, but it's also true to some extent for fixed wireless providers, many of whom are likely to bid in the 100 Mbps speed category.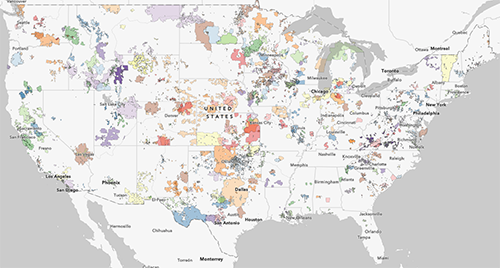 As with CAF II, the RDOF auction will use a weighting system to favor bids to deliver higher speed, lower latency service. In CAF II, this resulted in fixed wireless providers, small rural telcos and rural electric cooperatives being big winners.
Eligible Areas
If you zoom in on the RDOF bidder map, you can see the identities of some of the bidders – although that can be challenging for bidders that are geographically disperse, as each bidder is only labeled in one place. Those making plans for the auction, however, are likely familiar with companies operating near the areas for which they are contemplating a bid.
What about an eligible area that the Cooperative Network Services map doesn't show having a potential bidder nearby? If there is a likely bidder nearby that doesn't show up on the map, that company may be bidding as part of a consortium or under a disguised name.
It's also important to remember that eligible areas are all in areas where the incumbent local telecom company is one of the large price cap carriers. Some of those carriers — Consolidated Communications, CenturyLink, Cincinnati Bell, Frontier, Verizon and Windstream — also plan to bid in the auction but aren't shown on the RDOF bidder map.
The large price cap carriers didn't win much money in the CAF II auction, however, so the question is whether they will fare any differently this time around.
On the one hand, these carriers previously rejected funding for these areas and auction rules call for no winner to receive more money than what the price cap carriers were originally offered. On the other hand, it's been several years since the original offer was made and technology has continued to advance. Windstream, for example, is getting quite aggressive on the fixed wireless front and is likely to make some extensive fixed wireless bids.
And while cable companies weren't much of a factor in CAF II, that's likely to change, as some larger companies, including Cox, plan to bid in the RDOF auction, potentially using fixed wireless or, in some cases, fiber-based infrastructure.
Even if an eligible area has no likely bidder from among the large and small telcos, cable companies, rural electric cooperatives or fixed wireless providers, there is a possibility that those areas could see a bid from one of the satellite providers. ViaSat, which operates a higher-latency geostationary satellite system, was one of the biggest winners in CAF II and plans to bid again as does its rival Hughes Network Systems.
There is also at least one bidder among a new crop of satellite providers that use non-geostationary orbits, thereby providing lower latency. SpaceX plans to bid and hopes to do so as a low-latency provider, which would give the company a bidding edge against the geostationary companies.
Interested parties may also want data on serviceable locations in eligible areas. There are also resources for this RDOF location data.
Telecompetitor looks forward to the RDOF auction, scheduled to start in late October, and to providing readers with regular updates and information about the auction as it plays out.
Updated with additional information about cable companies.