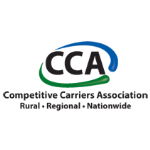 The Rural Cellular Association is no more. The wireless association announced a new name today, the Competitive Carrier Association (CCA). According to a press release, the move is "…in line with its evolution into the voice for all players in the competitive carrier ecosystem."
The rename is not unexpected. The former Rural Cellular Association recently added several carriers with limited rural interests – namely Sprint, T-Mobile, and Clearwire. Rather than exclusively focusing on rural wireless interests, the CCA now says their focus is on helping their members more effectively compete with the Verizon and AT&T "duopoly." The organization had to find issues to coalesce their rural carrier base and their new tier 1 carrier members around. The market power of Verizon and AT&T, and the competitive challenges it represents, seems to be the new rallying cry.
"Over the past several years, the wireless industry has seen increased consolidation and the emergence of a market duopoly.  In light of the duopoly and the threat of further industry consolidation, our members – both large and small – all share a common goal," said Steven K. Berry, president and CEO of CCA in a press release.
CCA's long move away from focusing on rural issues exclusively has opened the door for other associations, namely the Rural Telecommunications Group (RTG), who now appears to hold the mantle for rural wireless issues exclusively. RTG bylaws state that their carrier members cannot have more than 100K wireless subscribers. By contrast, CCA recently amended their bylaws to allow carriers up to 80 million subscribers. In an emailed statement RTG told Telecompetitor, "We expect to continue our mission of serving small rural wireless carriers while RTG's membership continues to grow."
NTCA and OPASTCO also put some focus on rural wireless policy issues, but it's a delicate balancing act for them, given their core wireline focused membership.