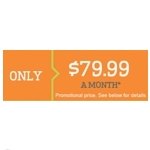 Qwest launched a targeted triple play offer of 7 Mbps DSL, a DirecTV CHOICE XTRA package, and unlimited nationwide calling for $80/month. The offer is available to Qwest's Iowa and Nebraska markets. The package also includes Qwest's free Wi-Fi offer and Qwest's Personal Digital Vault online backup service, offering 2GB of space.
There are catches. Some of the bundled savings are achieved through rebates, which must be applied for online. There is also a onetime $19.95 handling fee, and customers must enter into a 24 month lease for the DirecTV equipment. They also must agree to receive DirecTV email marketing messages. Oh, and if you want HD programming, that's an extra $10/month.
Qwest is targeting the heart of independent telco land by choosing Iowa and Nebraska. I'm sure they're looking to address some cable competition there, but this type of promo can impact more than just their direct competitors. Qwest's marketing message will be absorbed by many beyond their own footprint, putting pressure on other triple play carriers to offer similar packages and features.