More than 200 companies (220) have qualified to participate in the Connect America Fund II (CAF II) auction scheduled to begin in late July, including large incumbent carriers such as Verizon, Cox, Windstream, Frontier, Cincinnati Bell and Hawaiian Telcom and dozens of rural telcos.
Also qualifying as CAF II auction bidders are large and small cable companies, including Cox Communications and Altice, as well as satellite broadband providers Hughes Network Systems and Viasat, along with rural electric companies, WISPs, wireless companies such as U.S. Cellular and other types of companies.
CAF II Auction Bidders
On the qualified CAF II auction bidders list are dozens of companies whose applications initially were deemed "incomplete" by the FCC. As of mid-May, the commission had deemed only 47 applications to be complete, while 230 were incomplete. Those numbers now have essentially reversed, with only 57 applications ultimately deemed to be "not qualified to bid."
The CAF auction will award as much as $2 billion to cover some of the costs of deploying broadband to rural areas in up to 20 states where broadband meeting minimum service standards is not currently available. Funding will go to carriers that offer to provide service at the lowest level of support based on a weighting system that will favor bidders offering to provide higher-speed, lower-latency service.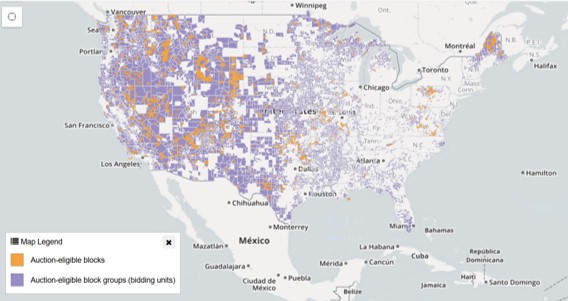 The funding was initially offered to large price cap carriers in each state, who had the option of accepting or rejecting funding on a state-by-state basis. Carriers that initially rejected funding but have qualified to participate in the auction will be able to bid on a more granular basis to provide service in areas they previously rejected, as the full-state requirement is lifted for the CAF II auction. However, no carrier will be awarded more funding on a per-line basis than the incumbent initially was offered.
Companies that did not qualify to participate in the auction include rural cable consolidator Vyve Broadband, public-traded incumbent Shentel Communications, competitive carriers such as ALLO Communications, and wireless broadband providers such as Hammer Fiber Optic Investments, as well as small incumbent carriers, electric companies and others.
In a public notice released today, the FCC provided information about how qualified auction bidders can gain access to the CAF II bidding system and participate in a mock auction and workshop. The public notice also details applicant obligations, including communications prohibitions with which qualifying and non-qualifying bidders must comply.
The public notice, along with lists of companies that did or did not qualify to bid in the CAF auction can be found here.