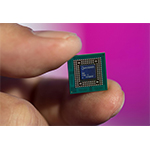 Qualcomm said today that it has achieved gigabit speeds using a 5G NR (5G New Radio) modem chipset that the company is calling Snapdragon X50. The achievement could pave the way for 5G commercialization in 2019. That's about a year earlier than what developers initially targeted for the technology.
"Qualcomm Technologies has been instrumental in accelerating the anticipated commercialization of 5G NR to 2019 through many key contributions, including foundational research and inventions, standards-setting in 3GPP, designing sub-GHz and mmWave 5G NR prototype systems, interoperability and over-the-air trials with major global operators and infrastructure vendors, and developing integrated circuit products for mobile devices," Qualcomm said in today's press release.
Also today, Verizon said it will work with Qualcomm and Novatel Wireless on 5G NR millimeter wave technology development and over-the-air field trials based on the 5G NR Release-15 specifications that are being developed as part of global 3GPP standards. Recent Qualcomm presentation materials show ultra-reliable low-latency communications (URLLC) as part of the work items for Release-15.
So What is 5G NR?
As the Qualcomm presentation materials also explain, 5G NR will be supported first in Release-15. 5G NR is the next iteration of global wireless standards and it builds on existing LTE standards.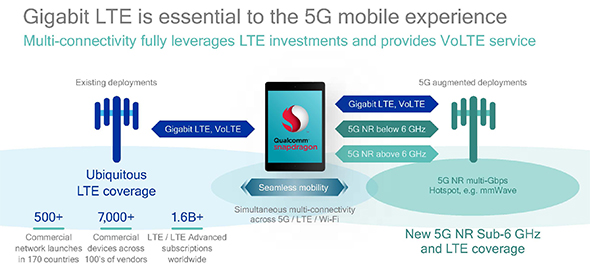 The term 5G NR implies operation in a wide range of spectrum bands, including spectrum below and above 6 GHz. Until now, wireless deployments have generally been in bands below 6 GHz, but bands that will be used for 5G include the 28 GHz and 39 GHz bands and others. A key aspect of these high-frequency bands is that wide swaths of spectrum are available for use – and wide swaths of spectrum will be necessary to support the high data rates expected for 5G.
Interestingly, Verizon, Qualcomm and Novatel plan "to deliver a common 5G NR platform for mobile and home broadband wireless access to support a 5G NR migration path for Verizon's early 5G fixed wireless access deployments based on the 5G- Technology Forum specifications."
Verizon and its partners plan to conduct over-the-air trials in the 28 GHz and 39 GHz bands beginning next year that will comply with the first 3GPP 5G NR specification that will be part of Release 15. The trials will support various fixed and mobile applications, including non-line-of-sight operation, the partners said.
Verizon has been especially aggressive on the 5G front, as the company sees technology leadership as its key competitive differentiator. The company bought XO Communications to get spectrum for 5G and already has been conducting trials of fixed 5G technology.