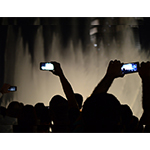 Rapid shifts in digital information and communications technology (ICT), and the ways it's used by the increasingly large share of the population turning to the Internet for entertainment and media (E&M) content has added a third dimension to the calculus market players need to factor into their business plans and actions, PwC highlights in a five-year U.S. entertainment-media revenues forecast.
E&M companies have become accustomed to focusing on the what and how of content production and maximizing their ability to distribute it. The rise and ongoing evolution of digital ICT and its impacts on what are fast becoming legacy E&M content production and distribution technology – over-the-air broadcast, cable and satellite TV, along with DVDs, Blu-ray discs and conventional movie theaters – is changing the way viewers and listeners consume E&M content, and where they turn to access it, PwC elaborates.
U.S. Entertainment-Media Revenues
A gap has emerged distinguishing how consumers want to experience and pay for E&M and how companies produce and disseminate content and services offerings, PwC Global Entertainment and Media leader Deborah Bothun highlights. Today, E&M companies need to zoom in on user experience (UX) in their business calculus as a result, along with all the factors related to the two longstanding, traditional dimensions of content production and distribution.
Turning to its 2017-2021 global E&M industry outlook, PwC forecasts annual revenues will increase from $1.8 trillion in 2016 to $2.2 trillion in 2021, a compound annual growth rate (CAGR) of 4.2 percent. That's down 0.2 CAGR points from the five-year forecast PwC made last year.
Zooming in on the U.S., PwC expects E&M revenues will increase at a 3.6 percent CAGR for the period, the same as last year, rising from $635 billion in 2016 to $759 billion in 2021.
PwC identifies a long list of major digital tipping-points it sees taking place, or sees prospects of, across all E&M market segments in its report:
Internet advertising now generates more revenue than TV advertising globally. Revenue from global Internet advertising in 2016 for the first time exceeded that generated by TV advertising.
Internet video revenues will overtake physical home video for the first time in 2017. Internet video revenues are projected to grow at a CAGR of 11.6% to reach US$36.7 billion in 2021, while the terminally declining market for DVDs and Blu-rays will have fallen to US$13.9 billion.
Global newspaper circulation revenue overtook global advertising revenue in 2016. By 2021, global total newspaper circulation revenue will account for 54.0% of total newspaper revenue.
In 2016, total digital recorded music revenue overtook physical—and streamed music overtook downloads. Music streaming services grew apace during 2016, pushing global digital revenues up by US$1.8 billion year-on-year, or 20.3%, as the physical segment declined 9.6%. Digital music streaming revenue also overtook its download counterpart in 2016, with streaming revenues rising 65.3% to US$6.6 billion, and downloading revenue slumping 18.4% to US$3.5 billion.
Virtual reality video revenue will exceed interactive application/gaming revenue in 2019. Of the US$15.1 billion in total revenue projected for the consumer VR content market in 2021, US$8.0 billion will be spent on VR video (rising at a CAGR of 91.2%), surpassing interactive experiences and games in 2019.
Smartphone data traffic will exceed fixed broadband data traffic in 2020. Fixed broadband will continue to account for the majority of data traffic in the 19 markets for which we have developed detailed forecasts. By 2020, overall smartphone data traffic across these 19 markets will exceed fixed broadband data traffic for the first time.
Global physical OOH revenue will slip into decline in 2019. As an ever-growing share of advertising spend is diverted to digital out-of-home (DOOH), global growth in physical out-of-home (OOH) revenue continues a downward trend, and will slip into decline in 2019, falling by -0.2%. By 2021, the rate of year-on-year decline will have accelerated to -0.8%.
From a global perspective, E&M industry revenue is approaching a plateau, PwC says. Revenues from mature market segments are in a declining trend, while Internet and digital E&M content continues to increase, though the rate of growth is slowing.
Growth Segments
Revenue growth is picking up in some segments within the digital/Internet E&M content space, however. That includes e-sports, virtual reality (VR) and music streaming, which are just beginning to gain momentum.
"E&M companies are operating amidst a wave of geopolitical turbulence, regulatory changes and technological disruption. Even if the macro context is set aside, these companies are facing significant pressures on growth," commented PwC's U.S. Technology, Media and Telecommunications leader Mark McCaffrey. "In order to thrive in the marketplace, PwC suggests that these companies understand and develop sustainable relationships with consumers to advance their UX.
"Pursuing a growth and investment strategy to enhance and differentiate the UX will help them flourish in an era where a changing value chain is slowing top-line growth from the traditional revenue streams that have nourished the E&M industry to date. Essentially, we've entered The Age of the Consumer. It's no longer sufficient to be 'consumer-centric,' one must be 'consumer-obsessed.'"
Hitting on the right elements of user experience bridges the gap separating how and when consumers want to access and pay for E&M content and the ways industry players produce and distribute it, Bothun said. "To deliver it, companies must pursue two related strategies. First, build businesses and brands anchored by active, high-value communities of fans, united by shared passions, values, and interests. And second, capitalize on emerging technologies to delight users in new ways and provide superior user experiences.
"Amid an ever greater supply of media, businesses that are fan-centric will find themselves with audiences that are more engaged, more loyal, and spend more per capita," adds Christopher Vollmer, PwC Global Advisory Leader for Entertainment and Media. "To thrive in the experience-driven marketplace characterized by this year's Outlook, companies need to attract and harness the economic, social, and emotional power of fans."
Image courtesy of flickr user Sam.