Puerto Rican broadband provider AeroNet announced that it has teamed with Facebook Connectivity, the technology R&D arm of the social media conglomerate, to provide advanced Wi-Fi services to Old San Juan, Puerto Rico, which launched yesterday.
A goal of the initiative is to bring services to areas such as near the Plaza San Jose and Plaza de Armas that currently have limited connectivity options.
The project relies on two Facebook Connectivity programs — the Express Wi-Fi platform and Terragraph. The Express Wi-Fi Platform helps service providers build, operate, manage and monetize Wi-Fi networks. Terragraph provides backhaul connectivity via fixed wireless technology in the 60 GHz band using a multi-point, multi-hop mesh approach.
"Our goal with implementing these new technology solutions is to provide access to the Internet with a fast and reliable Wi-FI network in areas that have not been possible due to the lack of infrastructure or the high cost of development,"AeroNet President and Founder Gino Villarini said in a press release about the Aeronet Facebook deal. "This new collaboration with Facebook Connectivity allows us to continue contributing to the socio-economic development and also reduce the digital gap in these communities. We keep expanding the coverage in Old San Juan to replicate the project in other towns on the Island."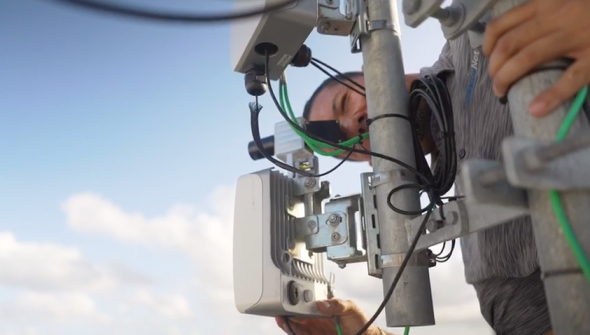 The deal was announced in February. Facebook Terragraph, which already had deals in place in Alameda, CA and Hungary, uses unlicensed 60 GHz spectrum. This spectrum is even higher than the mmWave approach used for 5G by AT&T and Verizon and can deliver extraordinary bandwidth over short distances to small footprints. Facebook positions 60 GHz as a good alternative in dense urban areas that have a good supply of lampposts and streetlights on which to mount equipment.
In February, Common Networks, which operates in west coast metro markets, launched what it claims is the first commercial wireless rooftop hardware that uses the new 802.11ay technology in combination with Terragraph technology to provide high-speed broadband.