The omnibus bill to fund the federal government that is currently before Congress calls for $7.5 million to go to the National Telecommunications and Information Agency (NTIA) to update National Broadband Map data in coordination with the FCC and using partnerships previously developed with the states.
The news comes at a time when a wide range of stakeholders have questioned the accuracy of the data upon which the latest version of the National Broadband Map is based. That's particularly important as the government gets set to allocate funding to help bring broadband to unserved or underserved areas. If you don't know where those areas are, how do you correctly allocate funding?
National Broadband Map Data Problems
The FCC recently updated the capabilities of the interactive National Broadband Map, but the data upon which the map is based is from 2014. The data was collected from the Form 477 filings that broadband providers must make with the FCC and some people have suggested that other data collection methods would be more accurate.
"I look forward to the day we can merge a great platform with great data," said FCC Commissioner Mignon Clyburn when the updated National Broadband Map platform was unveiled last month.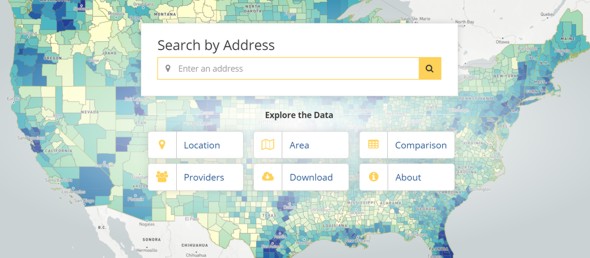 Participants got an earful about broadband data problems at a recent Senate Commerce Committee hearing titled "Rebuilding Infrastructure in America: Investing in Next-Generation Broadband."
A report from the Benton Foundation about the hearing quoted opening remarks from Senator Roger Wicker (R-Mississippi), chairman of the Senate Subcommittee on Communications, Technology, Innovation, and the Internet: "Inaccurate information of where broadband exists will only exacerbate the digital divide and leave millions of rural Americans further behind."
Also at the hearing, Steven K. Berry, president and CEO of the Competitive Carriers Association, said the problem with the map was "garbage in, garbage out" because the FCC requested information about the wrong parameters.
The question now, however, is whether $7.5 million is sufficient to address the problem. That amount is a small fraction of the $293 million that the NTIA allocated to 56 state broadband initiative projects as part of the 2009 broadband stimulus program to collect information for the National Broadband Map – and unfortunately it appears that the money spent at that time did not yield a sustainable system for ensuring accurate map data.
If Congress passes the omnibus spending bill, it also would need President's Trump signature before becoming law.
Image courtesy of flickr user Sean MacEntee.